Posted on
Assistant Superintendent Recruitment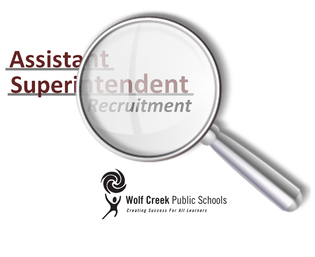 The Board of Trustees invites applications for the position of Assistant Superintendent, Inclusive Learning Services for Wolf Creek Public Schools.
The successful candidate will be an innovative and forward thinking proponent of educational excellence to ensure the needs of all students are met with a specific focus on those with diverse and complex learning needs. A key focus will be to support and actualize the components of the District Three-Year Education Plan and Alberta Education's Inclusive Education mandate.
The applicant will ideally have considerable experience at more senior levels and an ability to work collaboratively within the Division, with outside agencies and across ministries to ensure student success. This individual will be committed to building understanding and capacity for inclusion within our schools and school communities; possess a high level of professionalism, empathy and effective listening; and have excellent verbal and written communication skills.
Commitment to continuous improvement of self, others and the organization is expected. The successful candidate will work closely with the Superintendent and a dynamic senior leadership team.
More Information
For more information, CLICK HERE. 
Back to all posts