Team Drives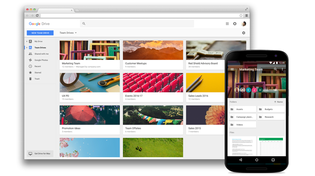 What is a Team Drive? 
Google Team Drives are shared spaces where teams can store their files and guarantee that every member has the most up-to-date information, no matter the time or place. Any changes made to a file in the Team Drive are automatically updated for everyone in the Team Drive. This is similar to a shared Folder in a personal Google Drive, except that all the files are owned by the collective not the individual who creates them, meaning if the person who created the document in the Team Drive leaves the Team Drive or the school division, the file is still available to everyone who is still a member of the Team Drive. You can add individuals or a Group mailing list to a Team Drive. If a mailing list is used (for example PEstaff-ml@wolfcreek.ab.ca), then as the members of that mailing list are updated, so is the access to the Team Drive. This means, there's no Team Drive access maintenance required. 
Why Use Team Drive?
As you may know, with the recent server refresh, the U: Drive was removed from school servers. A lot of schools backed those files up to an external hard drive, however, now if someone wants access to something the external hard drive has to be given to that person. If they make any changes to the file, then they would have to upload that file to the same place on the hard drive and replace the original file. With Team Drive everyone in the Team Drive would have access to the files from any device as long as there is an internet connection and they would be updated as soon as anyone makes any edits to it. Important to KnowTeam Drive is still quite new for Google and the current back up process that occurs for each individual's Drive does not occur at this time, so your Team Drive files are not currently backed up. 

If you are the owner of a file and you move it into a Team Drive, you are giving up "ownership" of that file and if you leave the school division, you no longer have access to the files you moved into the Team Drive, even though you were the original owner of the document. If this is a concern for you, make a copy of the file before moving it into a Team Drive. 

When creating a new Team Drive it's important to use your school naming code (IE, PC, LJ, etc) in the name of the drive. This will make it easier for Tech Services to support any issues that may arise with your Team Drive.