Posted on
Board honours Maskwacis Mobile Mental Health with WCPS Friends of Education Award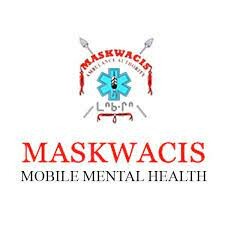 Maskwacis Mobile Mental Health is being honoured as the 2020/2021 Wolf Creek Public Schools Friends of Education Award Recipients. The WCPS Friends of Education Award recipient is selected by the WCPS Board of Trustees out of nominations submitted from around the division. The award recognizes school councils, parent advisory committees, individuals and/or organizations in the community that have made a special contribution to education in Wolf Creek Public Schools.
Part of the Maskwacis Ambulance Authority, Maskwacis Mobile Mental Health was nominated by Ian Tisdale, principal of the BRICK Learning Centre, because of the organization's ongoing support of student and staff mental health. 
"Over the years, we have been able to have an amazing relationship with Steve Skakum and others at the Maskwacis Mobile Mental Health Unit. They have been able to connect and help many of our students and their families in times of crisis," Tisdale said in the nomination. "They have been able to provide meaningful and significant professional development for our staff, specifically around trauma and grief."
Maskwacis Mobile Mental Health Unit has connected with school staff to build awareness and provide strategies for dealing with compassion fatigue and vicarious trauma, as well as providing a resource for school social workers.
"As a Board one of our top priorities is and continues to be the mental health and wellbeing of students and staff. We continue to advocate to the government for more support and funding in this area," said Pam Hansen, WCPS Board Chair. "This kind of community resource and partnership, and all our nominees, truly represent the wonderful examples of how schools and community partners come together to address the needs in schools." 
The major criterion for the Friends of Education Award is a significant contribution to education in Wolf Creek Public Schools. Nominees are demonstrably committed to the improvement of education for Wolf Creek Public Schools students. The award is for an individual, group or organization not employed by Wolf Creek Public Schools. This year there were several nominees for the award. Each nominee is being honoured with a certificate of recognition. 
The list of all the nominees for the 2020/2021 WCPS Friends of Education Award are: 
Tamera Goller (local artist) - Bluffton School
Maskwacis Mobile Mental Health - BRICK Learning Centre
Friends of Crestomere - Crestomere School 
GTI Petroleum - Eckville Elementary School
IGA Blackfalds - Iron Ridge Junior Campus
Lacombe Connex - Lacombe Composite High School
Lacombe Boston Pizza - Lacombe Upper Elementary and Lacombe Junior High School
Lana Davis - Rimbey Elementary School
Back to all posts