About Us
As the Technology Services team for Wolf Creek Public Schools, we believe our core purpose is to support a digital learning culture that enriches learning by enabling people to do their best work as we support technology for all aspects of our organization.  
As a team we commit to bringing our core values to life as we support everyone who makes Wolf Creek an amazing place to work and learn. Our core values are:
we are learning focused in all we do;
we are professional in all we do; 
we place people first in all we do; 
and we are team players in all we do. 
As a Technology Services Department we are guided by the 5 Goal Areas within Alberta Education's Learning and Technology Policy Framework .
Service and Support for a Learning Organization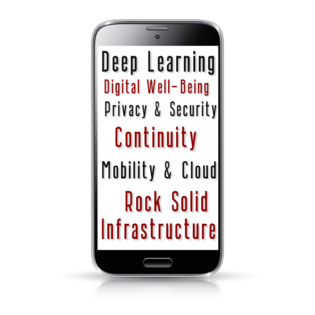 Tech Services is focused on providing service and support to all classrooms, schools, and departments that make up our learning organization.   
We do this by focusing our vision, decision making, and day to day operations around a set of 6 strategic drivers: 
Deep Learning -  Our team's mission is to enrich learning and enable people by supporting technology.   Our focus is to support a technology literate learning culture that places the learner at the center of all we do. Our teachers, students, administrators, and support staff all have access to current technology that purposefully supports deep learning in our classrooms and for every member of Wolf Creek Public Schools. 
Digital Well Being - We will service and support our school communities as we all learn to positively leverage technology. We will help our users establish proactive practices to support their digital well being. Continual work within the area of Digital Citizenship, at all levels of our Wolf Creek community, is an important part of this strategic driver. 
Privacy & Security - We will work with our users to maintain a secure and safe digital environment. Privacy and security are shared responsibilities and we commit to fostering a proactive culture of digital privacy and security actions in Wolf Creek Public Schools.
Continuity - We are continually researching, implementing, and maintaining our systems in order to provide the most stable, reliable, cost effective, and highest impact technology possible for all users.  We recognize that technology is integral to all aspects of our organization and that business continuity is crucial.  
Mobility and Cloud - We know that our students and staff have come to rely on accessing technology and our core systems anytime and anywhere. We continue to migrate key learning and district business applications to the cloud in order to improve the overall experience for our users. Our move to the cloud is also a major component of our business continuity driver. 
Rock Solid Infrastructure - We support, service, maintain a reliable system wide network that ensures our users can connect to and access a wide range of technology resources. We are continually seeking solutions which optimize the security, speed, coverage, usability and sustainability of our infrastructure resources.