Leaving WCPS - Know Before You Go Re: Staff and Student Accounts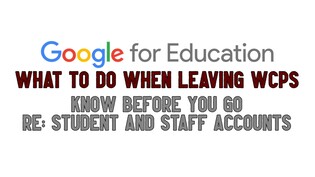 Staff and Student WCPS Google accounts are not "forever"
For staff and students leaving Wolf Creek Public Schools, we will miss you!  You will need to arrange to take your digital data with you from within our Google for Education environment.
You have 21 calendar days from: 
- the end of the school year or once you are no longer enrolled in our Student Information System for students; 
- the end of your employment contract with WCPS for staff. 
 This means that after 21 days;
You will not be able to sign into or use your WCPS Google account.
Student accounts, files, and email will be deleted. 
For our students, files you have shared with other people will no longer be available to them.  Staff accounts will remain suspended in order to ensure sharing of critical organizational data isn't abruptly lost.  
You can not be granted access to sign into your account or retrieve files once you leave WCPS and the 21 days have lapsed.
Before your last day of school or employment in WCPS;
Correct important applications and services you used your WCPS Google account with. These may include;

using your WCPS Google email for important registration correspondence such as for post secondary school;
websites or browsers you sign into using your WCPS Google account;
using your WCPS Google email address as a recovery email or for email subscriptions.

Copy, download or transfer files you want to keep.  You can use these Google tools to do that;
Think about files you shared to other people.  If files you created are still  needed by them, consider one of the following;

Transfer ownership – Make someone else the owner of the file so it does not get deleted when you leave.
Invite people to make a copy – Let other people know they can make a copy of the file before you leave. You can send an email with a link that will guide them through it. ​

Both Takeout and Transfer are third party services which Wolf Creek has no support through. If issues arise with these tools or processes, it is up to the individual user to work through other solutions. 
The Transfer or Takeout tools can take in excess of a week to extract all of your data and the data shared to you. Please remember this and leave plenty of time for the process to complete. On day 21 after you leave WCPS access to your account is denied even if these tools are in the process of moving your data. 
Be aware that you are moving data from a WCPS Google account that has almost unlimited storage to a personal account which has a hard limit. You have the option to add more storage if you choose to through a personal Google account.  
Students, if you have any questions about how to remove your digital data from the Wolf Creek Public Schools Google for Education domain, please ask your teacher. If they need help they will contact the Technology Services Team.
Staff, if you require assistance please speak with a trusted colleague or your school administrator. If you still require help, please submit a work order and someone from the Technology Services Team will reach out to assist you.   
Wolf Creek Public Schools Technology Services has created a page with video supports and other supplement information about leaving WCPS. It can be found at this link.