Posted on
EcoVision Club wins 2021 Emerald environmental award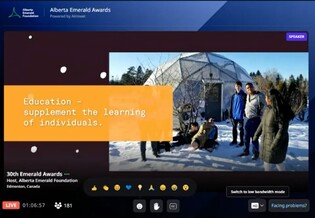 Students of École Secondaire Lacombe Composite High School's (ÉSLCHS) EcoVision Club have a lot to be proud of, but they can add the winner of a recent Emerald Award to the list. 
The 30th Annual Emerald Awards were handed out in a virtual ceremony on June 2, where the EcoVision Club won in the education category, besting two other groups. The EcoVision Club has been creating and managing projects for 12 years at ÉSLCHS, centered on the environment, sustainability and community building. 
The current projects include: 
Roof 4 Kids, which launched September 2020 and brings together an outdoor classroom with a living rooftop, goat sanctuary, and solar power; Bee Wise, a Green Certificate Beekeeping Technician Program; as well as an aquaponics, and a greenhouse project. 
In the acceptance speech, Grade 12 EcoVision student Harika Guggilapu said the award is for all students.
"We stand here today to accept the Emerald award on behalf of all the students who worked and are working on projects that have transformed their lives and created a better future for the environment and our community," she said, and also congratulated fellow nominees Vincent Massey Jr. High School and Evergreen Theatre Society  "The more schools that introduce environmental programs the better prepared our youth will be in constructing a healthy future and achieving our goals in reducing the negative environmental impacts."
EcoVision was nominated last year as well, but did not receive the award. Steven Schultz, ÉSLCHS teacher and EcoVision instructor said it shows that year after year students want to make a difference for the environment and their community. 
"This award tells the community that our students are difference makers and have the desire to make change for the better in the environment, in the school system and in the community," he said. "EcoVision has always been a student-led initiative, ever since its inception. That tradition and passion continues and I am so proud of the efforts of our students, and grateful for the support of our sponsors, the Wolf Creek Board, the entire school division and our community."
The Emerald Award win is something not just being celebrated by EcoVision students, but applauded in Wolf Creek Public Schools.
"On behalf of the Board of Trustees for Wolf Creek Public Schools, we want to send our sincere congratulations to Mr. Schultz and all the students who dedicate so much of themselves to make EcoVision a success," said Pam Hansen, WCPS Board Chair. "Each year students come up with new and innovative ideas that continue to inspire us. This award is a testament to that work and vision. Congratulations."
For the past 30 years, the Emerald Awards have recognized and celebrated the outstanding environmental achievements of large and small businesses, individuals, not-for-profit associations, community groups, youth, and governments.
Back to all posts