Posted on
Registration Complete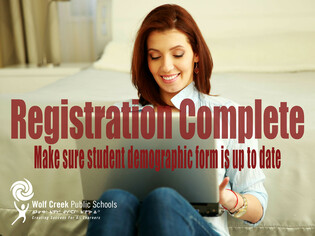 Are you set up to receive school and division notifications this school year? Use your Parent Portal to make sure you have your student information updated and are set up to receive messages from your school and the division throughout the year.
Please complete a 2022-2023 Demographic Update form for each PreK-12 student you have in a Wolf Creek school. You should be receiving an email in this regard.
If you did not receive an email asking you to update your child's student profile, please check your spam/junk folder. Using a phone or tablet to complete these forms may cause issues for some users. We recommend using a desktop, laptop or Chromebook.
If you are having issues submitting the form, accessing your Parent Portal account or require access to a device to complete this form, please contact your child's school office. Online Student Demographic Update forms are due Sept 15, 2022.
Back to all posts