Posted on
Bus Drivers help rescue of those stranded in snow storm (on Nov. 5)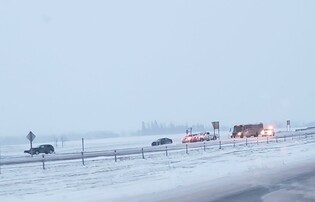 When a blast of winter-like weather hit the region on Nov. 5, Wolf Creek Public Schools's bus drivers were among those who stepped up to rescue stranded drivers. 
According to Ponoka RCMP, poor driving conditions were reported between Leduc and Airdrie that afternoon, with multiple collisions on the QEII near Ponoka. The northbound lane near Menaik Road was closed for several hours and there were around 57 vehicles that were stranded, which included semi-trucks and a coach bus of hockey players.
Wolf Creek received the call from the RCMP around 4 p.m. to provide school buses and drivers to help bring the stranded travelers off the highway and to shelter in Ponoka. 
"Gord (Schroder) immediately went to the shop and started buses and headed out," said Betty Clark, Transportation Manager. "A huge shout out to Gord Schroder, Sandy Caughill, Dan Munro, Cal Stock and Lita Clark for answering the call for help on Saturday afternoon."
Wolf Creek bus driver's were on the highway for several hours transporting people with police escort from the highway to shelters in Ponoka at the Calnash Ag Centre and the Centennial Centre overnight. Some were also transported to hotel rooms in Lacombe. 
"As our drivers got people off the highway and to their shelters, the RCMP would release our buses one by one and at 9:30 p.m. our final bus was able to head back to Lacombe," said Clark.
"I stayed in radio contact with the drivers until the last one reached their home that night after 10:00 pm, and we had a couple of extra drivers on standby just in case more were needed."
"We want to thank everyone who responded to the call and to those who were on standby," said Superintendent Tim De Ruyck. "This response from Betty and Rod managing and dispatching buses and drivers down through the shop and the drivers who braved the highway to help people they have never met is a testament to the commitment to community that exists throughout Wolf Creek Public Schools."
The school division's buses and drivers were part of a multi-organization effort that included the Town of Ponoka, County of Ponoka, RCMP, Victim Services and numerous other groups and volunteers.  
Back to all posts