Posted on
Melissa Rogers appointed assistant principal at École James S. McCormick School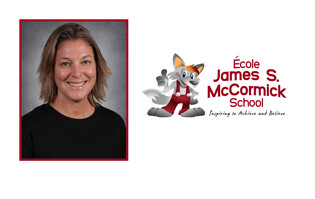 Wolf Creek Public Schools (WCPS) is pleased to announce that Melissa Rogers has been appointed as assistant principal at École James S. McCormick School (ÉJSM).
Rogers has been an educator since 2001, as she began her teaching career in Lethbridge as a physical education specialist and from there moved to teaching physical education in Abbotsford, BC before returning to central Alberta in 2012. 
"We are thrilled to welcome Melissa to continue on as part of the administration team at ÉJSM," said Sonja Dykslag, assistant superintendent of People Services. "We have no doubt that Melissa's passion for education and commitment to student success will continue to be a great asset to the Lacombe community." 
Rogers has taught at  École James S. McCormick since 2012 where she has also served as the school's Wellness Champion, supported the WCPS Wellness CORE team, and most recently served as acting assistant principal.
"It's an honour to be able to serve the ÉJSM students, staff and school community in this capacity," said Rogers. "I'm grateful to work with such a talented staff team who work hard every day to do what is right for our students."  
Rogers has a combined Bachelor of Arts/Bachelor of Education from the University of Lethbridge with a major in Kinesiology, and is pursuing her Master's degree. 
Back to all posts