Posted on
Media Release: Josephine Small Joins Wolf Creek Public Schools' First Nations Métis and Inuit (FNMI) Team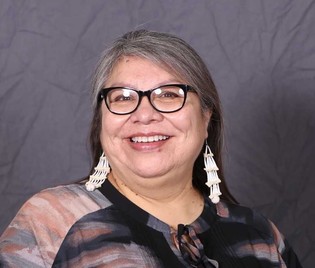 for Immediate Release: June 8, 2018
Ms. Josephine Small has been appointed as the First Nations Métis and Inuit Learning Supports Coach for Wolf Creek Public Schools (WCPS), effective August 30, 2018. Her appointment comes on the heels of approved funding under the Innovation in First Nations Education (IFNE) Grant Program from the Alberta Government. The IFNE Grant Program provides opportunity to build upon the collaborative work started through the initial BCCE Grant Program by developing school-based programs and initiatives that meet student needs and strengthen opportunities for student success.
"I am blessed that I have been able to make a career of teaching my language and culture; and am happy to be joining the Wolf Creek team and look forward to being able to contribute to Wolf Creek Public Schools in a learning supports role in the area of First Nations, Métis, and Inuit," said Ms. Small. "When I first heard of this posting, I took it as an opportunity to utilize my skills and reach First Nations students not attending reservation schools. Cree is my first language and will be a strong asset to this role as a learning supports coach working with FNMI students and Elders respectfully in our mother tongue. So this new journey I have arrived at is a result of many teachings along the way to prepare me for this day and this new job." Ms. Small further states, "I totally appreciate the fact that Wolf Creek is undertaking this initiative to incorporate FNMI knowledge and culture into the classrooms. Lastly, I firmly believe and know that laughter is healing and look forward to sharing many laughs with my new coworkers.  Laughter is music to my ears and music is a universal language. Hai Hai."
Josephine holds a Bachelor of Arts and Bachelor of Education Degree with intensive study of Cree and structure of languages. She has extensive knowledge of the history and culture of the Maskwacîs people as well as the Cree language and culture. She is fluent in oral and written Cree (Syllabic System and Roman Orthography). Her public speaking has taken her to two world conferences (WIPCE) a) using media to revitalize language and b) residential schools. Her leadership skills include conducting, leading and teaching coming of age/rites of passage ceremonies for young women in her community. She has 20+ years of teaching experience including four years as Vice Principal for two school divisions. Currently, she is a Cree teacher with Maskwacîs Education Schools Commission (MESC).
Jospehine is a First Nation Cree member of the Ermineskin Reserve; her Cree name is Kawichi pimihawimot Iskwew (Flying with the birds woman). She tries to teach her own children and her students their roots because in the words of her uncle, Dr. Wilton Littlechild, "You cannot get to where you are going if you don't know where you come from". Through this philosophy she knows her own roots, her people, her history - 'she knows where she comes from' and that has taken her to places near and far because of who she is and where she came from.
"Wolf Creek is very excited and fortunate to have Ms. Small join our school district. She brings tremendous experience and knowledge in key areas of First Nations, Métis and Inuit culture, history, and language. She will be a great asset in supporting our students, staff and communities across Wolf Creek" said Jayson Lovell, Superintendent of Schools.
Josephine attends ceremonies whenever and wherever she can including taking her grandchildren so they can learn at an early age the same way she was taught. Summers you can find Josephine on the powwow trail with her grandchildren. When Jospehine is not busy with her grandchildren, she likes to sew.
- 30 -
For more information, please contact:
Jayson Lovell, Superintendent of Schools
Phone: 403-783-3473
Email: jayson.lovell@wolfcreek.ab.ca
To view this media release in Google format CLICK HERE
Back to all posts