Posted on
Media Release: Students Graduate from Apprenticeship SWAC Partner Program with Red Deer College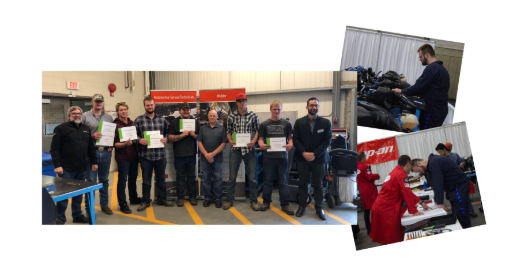 For Immediate Release: June 28, 2018
Media Release: Students Graduate from Apprenticeship SWAC Partner Program with Red Deer College
On June 13th, 2018 six Wolf Creek Public Schools students graduated from School within a College (SWAC) program. This dual credit program was focused on providing student opportunities with welding and automotive service technician programs in a college setting while still completing high school courses.  These students came from three high schools across Wolf Creek and have spent the past 18 weeks with an integrated learning experience at Red Deer College. Congratulations are extended to the following graduating students and their corresponding schools:
Welding
Tristyn Foley - École Secondaire Lacombe Composite High School
Landon Rutten - École Secondaire Lacombe Composite High School
Raymond Weever - École Secondaire Lacombe Composite High School
Automotive Service Technician
Brad Doorneward - Ponoka Secondary Campus
Tristan Pattison - Ponoka Secondary Campus
Quintin Jensen - Bentley School
"The SWAC program has created tremendous opportunities for our students to transition from high school to the world of work," commented Sean Lougheed, Director of Learning for Wolf Creek Public Schools. "Through this collaborative partnership between Wolf Creek Public Schools and Red Deer College we are able to expand the career choices for our students and help students access the extensive post-secondary training that can be found right here in Central Alberta."
The Central Alberta SWAC program is a partnership that includes Wolf Creek Public Schools and Red Deer College. The program offers the opportunity for high school students to take initial steps towards obtaining journeyman technical training while gaining high school credit.  This is a tremendous example of High School Redesign and how Wolf Creek is supporting students in career preparation.
"SWAC is a great opportunity and now that I have been through the SWAC program I now know what I want to do as a career," said Student Tristan Pattison.
Equally excited Landon Rutten stated, "In SWAC it is a lot of hard work but if you are passionate about what you do, go for it, keep pushing and you will do it!"
In addition to the completion of this program all of the students wrote the provincial Alberta Industry Training (AIT) exams and also had the opportunity to compete at the Skills Canada Competitions. Congratulations is extended to student, Brad Doorneward who placed high enough in the regional skills competition to qualify for the provincial competition by representing both Red Deer College and Wolf Creek.  Wolf Creek is proud of these students and is grateful to have such a strong partnership with Red Deer College.
Through programs such as SWAC, Wolf Creek believes in giving students the opportunity to explore a number of potential career paths while setting students up for successful transitioning into the world of work.
- 30 -
For more information, please contact:
Sean Lougheed, Director of Learning Services
Phone: 403-783-3473
Email: sean.lougheed@wolfcreek.ab.ca
To view this media release in google format click here. 
Back to all posts