Posted on
Board Chair Column: Developing WCPS school and division calendars aims for collaboration and balance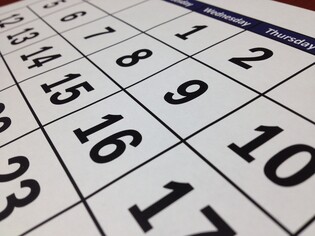 As you can imagine, a school and school division calendar must strike an appropriate balance between a myriad of factors, including the amount of instructional days, professional development time, holiday inclusion, and more. As the Board of Trustees for Wolf Creek Public Schools (WCPS), we take a great deal of care and consideration in respect to weighing these pressures and differences across our division.
In developing school and division calendars it's about listening and having a frank conversation. The WCPS superintendents' team takes a crucial advisory role, providing valued insight, while provincial regulations and settlements, as well as community realities, are all elements in the mix. Our Board is cognizant that not all communities in WCPS are the same; it's a big school division. To that end, a base calendar is developed for review each November, to be used for the following school year. That base calendar is shared with school principals for feedback, and principals then have the opportunity to review the draft calendar with school councils and staff to garner a full range of input and perspective.
Part of the calendar for WCPS, and for all school divisions, is professional development or PD days for staff. When allotting the number of PD days in WCPS, the Board makes comparisons with other divisions, with an aim at striking the proper balance between PD and instructional days. Of course time in the classroom is critical, but we know there are real and tangible benefits created for students through the collaboration and sharing of practices that come from staff professional development.
Our Board is sincerely proud of the efforts of our teachers and support staff, and the dedication they show in the classroom. Those efforts are boosted through what is learned and shared in professional development. These strategies help all students on their path forward, while lifting up students who may need a little more assistance, and challenging those high achievers who are clamouring for more.
Whenever possible, calendar alignment is important. One example is school-to-school within communities, to ensure siblings are in class on the same days, even if they attend different schools. Alignment allows schools and staff to collaborate on programs and resources, and alignment with neighbouring divisions allows for efficiencies in partnerships, such as in delivering transportation.
There's not a guide or a checklist to follow that allows for the development of a perfect school and division calendar. It's the expertise of our leadership teams at WCPS, the valued counsel of our parents, guardians and school communities that gets us closer. The Board knows and respects that it's only through this collaborative effort we arrive at a calendar that can create success for all learners throughout WCPS.
Pamela Hansen is Board Chair of Wolf Creek Public Schools (WCPS). WCPS Board of Trustees consists of six trustees representing the communities and rural areas of Alix, Bentley, Blackfalds, Bluffton, Clive, Eckville, Lacombe, Ponoka, and Rimbey. Serving approximately 7,300 students, from Kindergarten to Grade 12, WCPS employs approximately 412 teachers and 350 support staff in 30 schools, including five colony schools, throughout the Division.
Back to all posts