Posted on
WCPS bids farewell to latest International Learning Program exchange students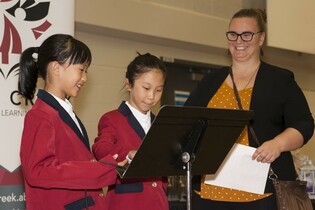 Terrace Ridge School and Wolf Creek Public Schools bid farewell to 30 Dongfengdong Primary School students from Guangzhou, China as part of the latest exchange through the Wolf Creek International Learning Program. The students spent the past three weeks attending classes at both Terrace Ridge School in Lacombe and Iron Ridge Intermediate Campus in Blackfalds learning about Alberta and Canada, which included many educational trips throughout the province. 
The exchange is part of a Memorandum of Understanding and a sister partnership between schools which was signed in March 2019 between Terrace Ridge School and Dongfengdong School.
"Our host families have opened up their homes and welcomed them, and you have welcomed them into your schools as well. This is what makes Wolf Creek International Learning Program such a unique and exciting opportunity. Because of this opportunity, you got to meet a new friend from way across the ocean. This is wonderful and unique for both countries," said Mark McWhinnie, WCPS assistant superintendent, at the farewell ceremony, Oct. 17 at Terrace Ridge School.  
"This was the very first time this age group experienced the MOU and the partnership between the two schools. Today we celebrate the beginning of that partnership. We do not say 'good-bye' though; instead we use a different phrase. We say 'until we meet again,' because the friendships you have made, we hope that you will remember those and you will be able to say 'see you later.'" 
Lacombe city councillor Jonathan Jacobson brought greetings on behalf of the city, and said this exchange builds connections between people. 
"Right now in the world people are often more interested in what divides us than what brings us together. It is very important with programs like this that you get to know each other and understand that no matter where we are from in the world we all want the same things. We just want to be happy, we want to have fun. If we all remembered that, the world would be a better place," he said. "It is very important, 15, 20, 30 years from now, when all of you here are making decisions, that you remember this and remember that we have a lot more in common than divides us." 
During the farewell ceremony students from both schools contributed to the program with speeches and musical content as well as gift exchanges. A memory video was shown to recap their many learning experiences.
Huang Hui, Guangzhou director of international programming said with this exchange, Canada is no longer just a location on a map for her students. 
"They say if you want to learn about a country, the best way to do it is to live in it. In the past three weeks, our experience here has become our most unforgettable memories. Our children made friends here and a lot of them here can grow up together," she said. "We appreciate our partnership, but what we value higher is the friendship." 
Wolf Creek Public Schools appreciates the community support for this program from many local businesses and organizations that open their doors to international students, to the host families and student ambassadors that participate. We invite anyone interested in hosting international students on a short term or long term basis to contact us at wci@wolfcreek.ab.ca or phone 403.506.6558.
International Learning Program October 2019
Back to all posts