Posted on
IRIC Grade 5 students showcase 3D mobile truck models and menus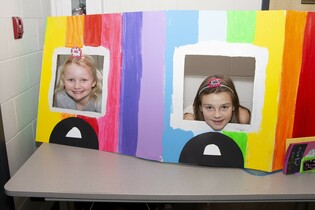 Iron Ridge Intermediate Campus Grade 5 students showcased their 3D mobile truck models and menus at the Grade 5 Market Dec. 19. 
For the past two months, Iron Ridge Intermediate Campus Grade 5 teachers have been utilizing  Project-Based Learning that focuses on the real-world application of math concepts used in building and designing businesses, while practicing problem-solving skills, collaboration, and their imagination.  
The objective of this project was to create and run a mobile truck business by creating a personalized food menu and a miniature 3D version of a mobile truck they can call their own.  
To complete this project is a showcase/celebration for parents and peers to take a 'gallery walk' around the gathering area (set up as a marketplace) to display and celebrate their creativity, imagination, and application of skills. 
Grade 5 Market Dec 19 2019
Back to all posts