Posted on
Acting assistant principals appointed at Ponoka Secondary Campus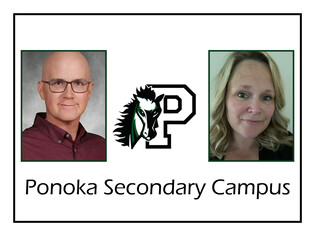 Wolf Creek Public Schools is pleased to announce the appointment of Adam Troitsky and Jennifer Douglas as acting assistant principals for Ponoka Secondary Campus (PSC), effective for the 2022-2023 school year.
Troitsky is a long-serving Wolf Creek teacher at Mecca Glen School, since 2009. During this time he has taught a wide range of subjects, served as the First Nations, Métis and Inuit lead teacher, served as acting admin, and coached and led athletics. He holds a BEd from the University of Alberta and an MSc in The Art & Science of Teaching from Wilkes University. 
"We are confident that Adam's passion for student success will be a great fit at PSC," said Corrine Thorsteinson, WCPS assistant superintendent - people services. 
"It is an honour to join the passionate, skilled, and hardworking team at Ponoka Secondary Campus. I am thrilled to have the opportunity to work alongside and build relationships with the staff, students, and families in Ponoka," said Troitsky.
Douglas comes to WCPS from Maskwacis Education Schools Commission (MESC) where she has served various roles at Ermineskin Jr/Sr High School, including guidance counsellor and vice principal. Additionally, Douglas has taught in several term contracts at Maskwacis Cultural College. 
"She has a strong background in Student Voice initiatives and Collaborative Response Model (CRM) implementation, all of which will serve her well in this new role at PSC," said Thorsteinson  
Douglas holds a BEd, a Bachelor of Physical Education and a Post Baccalaureate Diploma in Education all from the University of Manitoba.
"I look forward to my new acting assistant principal position at PSC. I am excited to build new relationships with staff, parents and students from Ponoka, Mecca Glen, Crestomere & Maskwacis. Go Broncs," said Douglas.
Troitsky and Douglas were appointed as Cody Baird assumes the role of acting principal of PSC, and Riley Quance takes on the role of acting assistant principal at École Secondaire Lacombe Composite High School (ÉSLCHS).
Back to all posts