Posted on
Alberta Government commits construction funding for new Wolf Creek high school in Blackfalds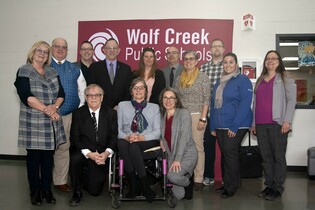 The journey to the new Wolf Creek Public Schools high school planned for Blackfalds took a big step forward, with the announcement of full construction funding from the Alberta Government.
Lacombe-Ponoka MLA Ron Orr made the announcement March 10 at Iron Ridge Intermediate Campus. Surrounded by staff, students and community partners, Orr said schools bring an immense value to communities. 
"Blackfalds is one of the fastest growing communities in Alberta, and this new high school provides our community with a state-of-the-act facility supporting opportunities for Career and Technology Studies programs, performing arts, and recreational activities," said Orr. 
"With the opening of their first high school, I am pleased that Blackfalds students will now be able to complete their education in their own community instead of commuting to Lacombe just to attend high school."
Blackfalds does not currently have a high school and students are bused to Lacombe. The Town of Blackfalds has been close partners in advocating for a new high school. 
"Today is an important milestone for the Town of Blackfalds.  For the past 10 years, our community has been strongly advocating for Kindergarten to Grade 12 education within our boundaries," said Richard Poole, Mayor of Blackfalds. 
"We appreciate the continued support that has been provided by Wolf Creek Public Schools in making this need a reality. Our citizens look forward to cooperating and providing input that will assist in this facility becoming the best for our local youth.
"We also acknowledge and appreciate the foresight our Ministry of Education has provided by investing, not only in infrastructure but more importantly, in the positive and progressive future for new generations of Albertans."
The high school will have a student capacity of 850, and planning has begun to move forward. 
"Today's announcement is a tremendous next step toward a new high school for the community of Blackfalds," said Pam Hansen, WCPS Board Chair. 
"We want to sincerely thank all the partners involved, including the Town of Blackfalds and Alberta Education and Alberta Infrastructure for recognizing this need, and making this new school a priority."
In addition to Career and Technology Studies programming, as well as flexible spaces that may be used to support the performing arts, Orr explained the project will include a partnership with the municipality for joint use of recreational facilities and parking opportunities.
Blackfalds High School Funding Announcement
Back to all posts