Posted on
Bentley students take part in Habitat for Humanity Build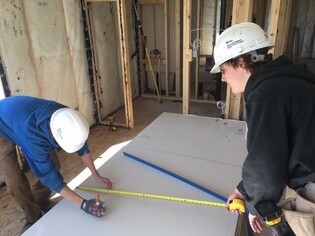 This past month, nine Bentley students and teacher Jason Hazlett had the opportunity to work on a build undertaken by Habitat for Humanity.  The students ranged from grades 10 to 12 and all had various levels of experience in construction.
"We worked as volunteers for three days and the two main tasks involved were sealing barrier and hanging drywall.  All students improved substantially in these skills from the first day to the third day," said Hazlett.
Kurt Von Hollen was the supervisor assigned on the build, bringing incredible knowledge in the construction industry and was a wealth of knowledge for the students.  
"Everyone was positive because of the great instructor that Kurt is. Overall, I enjoyed the experience," said Seth King, Grade 11 student.
Von Hollen was constantly looking over shoulders until he was confident that everyone had the skills mastered, before allowing volunteers to work independently with a sense of accomplishment.  Work safety was also stressed, including wearing proper Personal Protective Equipment (PPE), and awareness of trip hazards.
"I was also very impressed by how Kurt understood that peer teaching was invaluable as his explanations often needed to be reinforced by other students who had mastered a skill," said Hazlett.
"Students helping fellow students was a big part of the experience," said Austin Beveridge in Grade 10.  
Von Hollen shared with the students his experience watching families move into a home completed by Habitat for Humanity volunteers, and the tears and joy those families experience.


"It was a pleasure each time we put another screw in the wall, knowing that this house would soon be enjoyed by a deserving family and we were a part of making it happen," said Hazlett.
Back to all posts