Posted on
Betty Clark Appointed Assistant Transportation Manager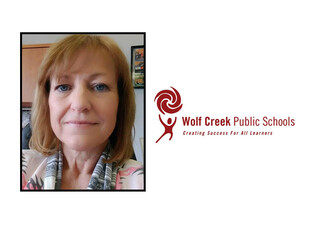 Wolf Creek Public Schools (WCPS) is pleased to announce the appointment of Betty Clark as Assistant Transportation Manager of WCPS. 
Betty Clark came to WCPS in 2006, and has served in the Transportation Services department for the past six-and-a-half years, and previously for seven years at École Secondaire Lacombe Composite High School. Prior to WCPS, Clark worked for Battle River School Division for 20 years, as Student Information Systems Officer in their Tech Services Department and at Camrose Composite High School. She has driven bus for athletics departments and for curricular field trips.
"I have enjoyed working for WCPS and have built some strong connections," said Clark. "I am looking forward to continuing to work with the transportation team in my new role."
Transportation Manager Ron Rarick is very pleased to have Clark moving into her new role as Assistant Manager. 
"Betty brings a vast amount of transportation knowledge and background experience into this new position," said Rarick. "I believe she will excel in her new role as a leader and being a part of the future direction of this department. Betty cares deeply about what we do for our staff, schools, and families throughout Wolf Creek."
Back to all posts