Posted on
Bluffton School volunteer awarded WCPS Friends of Education Award for transforming school with book-inspired lockers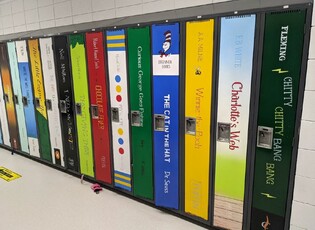 Tamera Goller, an exceptional volunteer and devoted advocate for education, has been named the recipient of the 2022/23 Wolf Creek Public Schools' Friends of Education Award. Nominated by Terry Hoganson, principal of Bluffton School, Goller was chosen by the Wolf Creek Board of Trustees among a pool of nominees from across the school division.
The Friends of Education Award recognizes outstanding individuals, school councils, parent advisory committees, and community organizations that have made a significant impact on education within the district. The primary criterion for the award is a demonstrable commitment to enhancing education for students in Wolf Creek Public Schools.
Goller's dedication and commitment to literacy and student success earned her the honour. Over the past three years, she has devoted countless hours to creating unique book lockers for Bluffton School, beautifully painting them to resemble books. 
"She has put in hundreds of hours, transforming ordinary lockers into literary masterpieces," said Terry Hoganson. "The initiative not only promotes student interest in literacy and reading but also nurtures a sense of excitement and anticipation among students."
Each fall, as students receive their lockers, they discover the book represented by their locker design. Many students make it a point to read the chosen book throughout the year.
"At Bluffton School, we believe in the value of reading and literacy, and Tamera's efforts have truly embodied this belief," said Hoganson. "The overall appearance of our building has been elevated, captivating anyone who steps foot inside. We have even had community members, without any personal connection to the school, bring their friends and relatives to marvel at the lockers."
Goller's involvement in the project goes beyond painting lockers. She frequently visits the school to read with the students and actively participates in various literacy celebrations and community events. Her consistent presence and genuine dedication have made her an invaluable member of the school community.
"We are incredibly proud of the remarkable volunteers like Tamera who help make our schools and students successful," said Luci Henry, WCPS Board chair. "Their commitment to education and the betterment of our students' lives is truly inspiring."
Back to all posts