Posted on
Board Chair Column: 2022/23 school year marks a busy time ahead for Wolf Creek Public Schools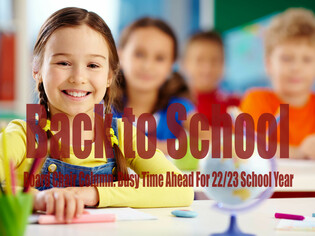 A new school year is beginning and Wolf Creek Public Schools' Board of Trustees couldn't be more excited. This year we begin anew and it continues to be a busy time for the Board and the Division. 
Our Facilities department should be commended for the number of projects worked on over the summer. There were 215 work orders for schools in Wolf Creek, and that included everything from new flooring, roofing, pneumatic controls to asphalt and concrete repairs and even painting. 
Our Education Services department is hard at work ensuring teachers and schools are prepared for the implementation of the new curriculum. This included the allocation of resources into the classroom, as the Division was provided $167,000 to support implementation of the K-3 English Language Arts and Literature, K-3 Math, and the K-3 physical education and wellness curriculum. This will help provide the needed resources for teachers and to benefit students. 
At the Board level, we are getting ready for the annual Board retreat. This is where we as a Board can take more time to plan long term, analyze issues and work closely with administration on the best possible paths forward. We will focus on our Education Plan, which is entering its second year. We are also going to be reviewing the budget and have an in depth discussion on this past year's grade configuration consultation for Blackfalds for the new Iron Ridge Secondary Campus. 
This fall, we have the opportunity to meet with Education Minister Adriana LaGrange, where we plan to discuss the top item in our Capital Plan (a replacement school for Iron Ridge Elementary Campus in Blackfalds) and the need for sustainable funding for education. 
School divisions around Alberta have been advised by Alberta Education that they can use reserves to bolster staffing this school year. But the amount a school division has in reserves differs greatly from school division to school division. If a school division keeps a lot of money in reserves they will be able to boost staffing this year, but as reserves are largely a finite source, they may not be able to sustain that level of staffing next year or the year after. 
Our Board has been careful to limit its reserves and have responsibly used those reserves to attend to funding crunches, COVID needs and unforeseen impacts on the division, such as changes to insurance premiums. Our philosophy has largely been to use today's funding on today's students. We have done this while maintaining a competitive salary base for positions, while being at or above average for employee compensation among other divisions in our region. 
At the same time, we are committed to continue to work hard in advocating the Minister of Education and the Government of Alberta for the levels of funding school divisions need to operate, to maintain facilities and to ensure the success for all students. 
We look forward to this school year, to reconnect and to build stronger relationships at the school and community level. We hope you had a great summer and sincerely welcome you back. 
Luci Henry, is the Board Chair for Wolf Creek Public Schools. Wolf Creek Public Schools Board is served by Trustees representing the communities and rural areas of Alix, Bentley, Blackfalds, Bluffton, Clive, Eckville, Lacombe, Ponoka, and Rimbey. Serving approximately 7,300 students, from Kindergarten to Grade 12, WCPS employs approximately 412 teachers and 350 support staff in 30 schools, including five colony schools, throughout the Division.
Back to all posts