Posted on
Board Column: WCPS Annual Results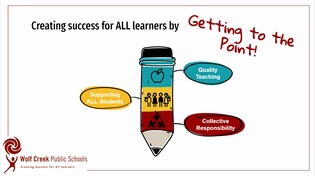 Wolf Creek showing strong results in Alberta Education Assurance Measure
Luci Henry,
WCPS Board Chair
Over the past couple of years, education delivery has looked different across Alberta, indeed across Canada and elsewhere.  And, Wolf Creek Public Schools is no exception.
But despite the challenges that have been faced, Wolf Creek Public Schools is proud to report positive and strong results from the spring 2020-21 Alberta Education Assurance Measure Results.
These results are generated through stakeholder feedback and hard measures gathered through the annual Assurance Framework that came into effect in Alberta on September 1, 2020. The framework is about building public trust and confidence that the education system is meeting the needs and creating success for students.
It's a new reporting system, with some new measures, including: student learning engagement, and welcoming, caring, respectful and safe learning environments, of which Wolf Creek reported a 83.2 and 87.2 per cent respectively. Access to supports and services (another new category) saw the division score an 82.4. These are all great indicators that our staff continues to connect with students in and out of the classroom, and continue to do our best to provide the support needed to students and families.
Wolf Creek continues to see gains in the high school completion rate, with our three-year high school completion rate right in line with the province at 83.2 per cent, and 84.9 per cent for five-year completion, which is the highest for the Division for the past eight years. Additionally our partnerships with post-secondary for dual credit opportunities for students has led to our work prep score for students reaching a five year high at 83.1 per cent.
Wolf Creek's education quality also remains very high at 89.4 per cent, which also lines up with the provincial average and remains steady over a three year average for the Division.
There are plenty of challenges that remain in education, those existed before the pandemic and continue regardless of COVID. Wolf Creek is doing the things necessary to look into and address learning gaps caused by the COVID-19 disruptions, most especially by utilizing a grant for this particular work in grades 2 and 3.
As a Board we value the feedback of our stakeholders, parents, teachers, staff, students and our communities. In a report such as the Assurance Framework offers, it gives us a chance to continuously engage, plan, adjust and respond. Our communities will learn more about this as we move forward and begin with this year's assurance model engagements, as we keep working towards improving where we can and holding steady where we excel.
Luci Henry, is the Board Chair for Wolf Creek Public Schools. Wolf Creek Public Schools Board is served by Trustees representing the communities and rural areas of Alix, Bentley, Blackfalds, Bluffton, Clive, Eckville, Lacombe, Ponoka, and Rimbey. Serving approximately 7,300 students, from Kindergarten to Grade 12, WCPS employs approximately 412 teachers and 350 support staff in 30 schools, including five colony schools, throughout the Division.
Back to all posts