Posted on
Board Launches "Tell Us Your Story" Advocacy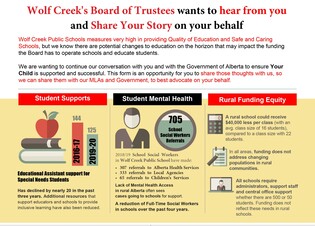 Wolf Creek Public Schools' Board of Trustees is committed to listening to you, our important partners in education. We know our families have different stories and experiences, needs and access to resources when it comes to education, and it's those stories and concerns regarding public education in your community that we want you to share with us. 
WCPS Trustees advocate on your behalf to Alberta Education and the Government of Alberta. Simply put, that means they open conversations with the government looking to address your concerns. To do that more effectively, and as we approach the next education budget this spring, it is crucial that we know your story first hand, so the Board can best represent and make a strong case for your concerns, for you and for your children. 
Please find the attached advocacy sheet, with some brief information about current resource and support pressures on the division. On the reverse side is a form where you can write your story.
This is a fillable PDF that you can fill out on your computer, save it, and email as an attachment back to us.
Or you can print it off, fill it out and mail it back. 
Please ensure you return this to us by either email at:  wolfcreek@wolfcreek.ab.ca,
or mail to: 
Wolf Creek Public Schools Board Advocacy
c/o Wolf Creek Public Schools
6000 Highway 2A
Ponoka, Alberta
T4J 1P6
Thank you for all you do to support public education in Alberta and across Wolf Creek Public Schools. 
Sincerely,
Jayson Lovell,
Superintendent
Back to all posts