Posted on
Cody Baird appointed principal at Ponoka Secondary Campus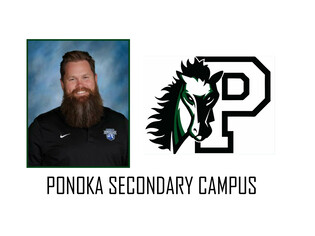 Ponoka — Wolf Creek Public Schools (WCPS) is pleased to announce the appointment of Mr. Cody Baird as principal of Ponoka Secondary Campus.
Baird  began his teaching career with Wolf Creek at Ponoka Secondary Campus in 2011. He served as assistant principal at PSC from 2019 to 2022, when he was then appointed acting principal at PSC. 
"We are confident in Cody's leadership at PSC and excited to see him continue in the role as principal of the school. He is passionate about students and committed to building strong relationships that foster success for students," said Sonja Dykslag, assistant superintendent of People Services. 
Baird has an extensive coaching background coupled with his compassion for students and staff, he has built a solid reputation for affiliative leadership with a focus on growing a school community. 
"I am honoured to keep serving PSC and our school communities. PSC is a place I am proud of, it is full of amazing people and I can't wait for the great things to come," said Baird.
Baird holds a Bachelor of Education degree from the University of Alberta with a major in physical education and a minor in French. He is currently working on his Master's degree in Education Leadership from City University, Seattle and will complete this master's degree by the end of 2023. Baird is replacing Kathy McTaggart, who has served for 13 years at PSC. 
"I am so excited for Cody to continue on as the principal of PSC. Congratulations. I know he will continue to do a fabulous job," said McTaggart. "Thank you to all my students, teachers, parents and community members in the Ponoka and Maskwacis area I have gotten to know over my 13 years at PCS. Go Broncs!"
Back to all posts