Posted on
Community in Lacombe honours Lacombe Composite High School teacher Steven Schultz for Prime Minister's Award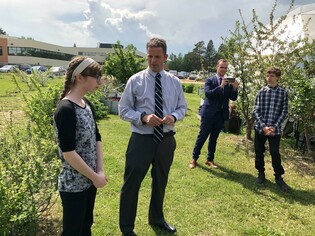 École Lacombe Composite High School (ELCHS) teacher Steven Schultz was honoured by dignitaries and the school community June 14 for his recent national recognition, receiving the 2019 Prime Minister's Awards for Teaching Excellence and Teaching Excellence in science, technology, engineering, and mathematics (STEM).
"He creates a positive learning environment, where every student has the opportunity to be successful," said Mayor Grant Creasey, who spearheaded the campaign to nominate Schultz for the prestigious national award.
Schultz started a robotics program at LCHS 15 years ago. That program has evolved and many environmental and agricultural programs followed over the years. From building a tropical greenhouse, establishing a two-acre garden and launching a composting program —  all which allow students to develop leadership, communication and innovation skills not possible in the classroom.
"People like Steve who has had his head down for 25 years, caring for his students, doing what he knows how to do well, not going around looking for accolades and praise, but with real humility and hardwork just does what his calling is," said Ron Orr, MLA Lacombe - Ponoka.
Alberta Education Minister Adriana LaGrange said excellent teachers give children the tools and the confidence needed to pursue their dreams.
"Steven's impact will go far beyond the walls of his LCHS classroom and will be felt for years and even decades down the road. Generations will remember," she added.
Speaking on behalf of her husband MP Blaine Calkins, Barb Calkins delivered a message of how Schultz opened the world to students to make it better.
"It is what we do for others that will make us happier people. The students here are the proof that these words and these principles are the mantra of Mr. Schultz," said Kelly Lowry WCPS Trustee.
Mark McWhinnie, WCPS assistant superintendent said Schultz's passion and dedication can be found throughout the division.
"Steve emobies the kind of teachers that we have all across our school division, that dedicate countless hours and time investing in the education of our students," he said.
Schultz thanked the many supporters from students to colleagues, the division to the community and said the award would be displayed at LCHS as a way to share it with everyone.
"I really believe it is a recipe. It doesn't take a single individual to raise a child. It doesn't.
The most important lesson I have learned through the journey of adversity is to stay focused on the purpose you were created for," he said. "Not all of you were created to be teachers, not all of you were created to do inspiring projects about the environment. But you were created with passion, you were created with a dream; find that and follow it."  
To conclude, Schultz added to the George Benard Shaw quote — You see things and say why?
"I allow students to dream things that never were and ask, why not?"
Back to all posts