Posted on
Craig Fullarton Appointed Assistant Principal at JS McCormick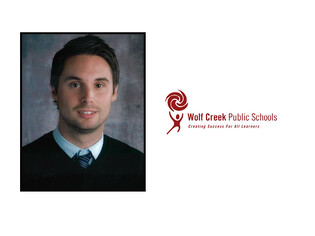 Wolf Creek Public Schools (WCPS) is pleased to announce the appointment of Mr. Craig Fullarton as assistant principal at École James S. McCormick School in Lacombe.
Mr. Fullarton has taught at JS McCormick since 2015, during which time he has served as the First Nations, Métis and Inuit Lead Teacher, and as acting assistant principal for the 2019/20 school year. Mr. Fullarton taught for five years at Barr Colony Elementary School in Lloydminster, prior to joining WCPS. A graduate of the RDC Middle Years Program (2010), Mr. Fullarton has recently been accepted into a M.Ed program at the University of Alberta and will be commencing his studies in July.
"We are confident that Craig will continue to make an impact at JS McCormick and as part of the wider leadership community in Wolf Creek," said Corrine Thorsteinson, assistant superintendent - People Services.
Mr. Fullarton said he is thrilled and honoured to be appointed assistant principal at JS McCormick. 
"It is a privilege to have the opportunity to develop as a leader with such a dedicated and committed team of educators. I look forward to helping the school achieve its goals and to contributing to a school culture built on providing positive experiences for both staff and students," said Fullarton. "I cannot wait to work in collaboration with our school community to build on the amazing things that are happening at our school."
Back to all posts