Posted on
EcoVision Club finalist for Emerald environmental award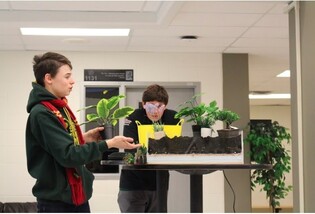 Students of École Secondaire Lacombe Composite High School's (ÉSLCHS) EcoVision Club are looking forward to June, when they find out if they are winners of the 29th annual Emerald Awards. 
The 29th Annual Emerald Awards finalists were announced in March, which includes the EcoVision Club, and the winners will be awarded in a virtual ceremony on June 2. The EcoVision Club has been creating and managing projects for 12 years at ÉSLCHS, centered on the environment, sustainability and community building. 
"I think it is really powerful that we were nominated in the midst of a COVID-19 pandemic, said Steven Schultz, ÉSLCHS teacher and EcoVision instructor. "This is an opportunity to put a good message forward, and what the students are doing is powerful and positive, but it's also our school and school division."
Schultz compared the Emerald Awards to the Oscars for the environment. For the past 29 years, the Emerald Awards have recognized and celebrated the outstanding environmental achievements of large and small businesses, individuals, not-for-profit associations, community groups, youth, and governments.
"This nomination tells the community that our students want to make a difference and students can make a difference, not only in our environment, but in our education system," said Schultz. "All our projects enhance educational opportunities, all our projects encourage community collaboration and all our projects improve the environment. Being recognized for those three things is phenomenal."
As in-school classes are currently cancelled and student learning continues at home, Schultz said his EcoVision students want projects to continue. He said they have been meeting as a club virtually, and community members have taken to planting and preparing the Greenhouse spring and summer growing season, in lieu of students not being able to attend the school. 
Meanwhile, students continue to plan new projects. Produce that would have been sold to restaurants, but couldn't because of restaurant closures under COVID-19 restrictions, is being sold through a website, and with curbside pickup. A portion of the proceeds are being donated to the local Food Bank. Additionally, Schultz said his robotics students used a design for a clip for N-95 mask ear straps to allow masks to be worn more comfortably. Those have been printed with the use of a 3D printer and orders have been sent to hospitals in Edmonton and Calgary and to the Lacombe paramedics. Schultz added that a community supporter, Lili Poelzer, owner of Busy Beaver Sewing Co., is making protective cloth masks for the EcoVision Club to sell.
"It's very inspiring to see my students step up and act on their passions. What is phenomenal, and I hope and believe my students are grasping, is that our communities are only as strong as our network is," said Schultz. "We are growing student leaders in our school and school Division, and those leadership skills that they are developing have been recognized by the nomination for the Emerald Award."
Back to all posts