Posted on
Erin Freadrich appointed Wolf Creek Public Schools ILS Coordinator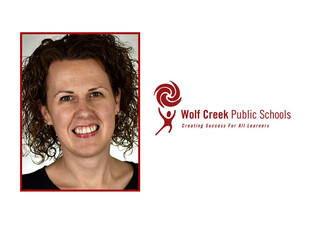 Ponoka — Wolf Creek Public Schools (WCPS) is pleased to announce the appointment of Erin Freadrich as Coordinator - Inclusive Learning Services for the 2021/2022 school year.  
Freadrich has been with Wolf Creek since 2004 where she started as a teacher and special education facilitator. Since then she has been a teacher and the acting assistant principal at The Brick Learning Centre and most recently she has been teaching at Ponoka Secondary Campus.  
"Erin has a passion for inclusive education and a devotion to a student-centered approach in her work," said Danica Martin, assistant superintendent - Inclusive Learning Services. "She brings a wide array of skills to this position including instructional leadership, differentiation of curriculum, trauma informed practice, and programming for students with diverse academic, behavioural, and social/emotional needs. We are thrilled to have Erin join our team. At the heart of her work, Erin believes in the power of relationships and has exemplified this belief throughout her career."
Freadrich holds a Bachelor of Education from the University of Alberta and a Masters of Education in Leadership from City University of Seattle.  
"I am honoured to be continuing my leadership journey by joining the Inclusive Learning Services team," said Freadrich. "I look forward to working with all of the amazing students, families and schools across Wolf Creek in the upcoming 2021-2022 school year."
This position is open due to Abbey Cruikshank's appointment as assistant principal at Clive School for the 2021/2022 school year.  
Back to all posts