Posted on
Important Busing Notice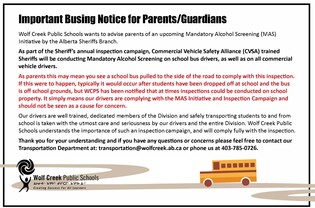 Wolf Creek Public Schools wants to advise parents of an upcoming Mandatory Alcohol Screening (MAS) Initiative by the Alberta Sheriffs Branch.
As part of the Sheriffs annual inspection campaign, Commercial Vehicle Safety Alliance (CVSA) trained Sheriffs will be conducting Mandatory Alcohol Screening on school bus drivers, as well as on all commercial vehicle drivers.
As parents this may mean you see a school bus pulled to the side of the road to comply with this inspection. If this were to happen, typically it would occur after students have been dropped off at school and the bus is off school grounds, but WCPS has been notified that at times inspections could be conducted on school property. It simply means our drivers are complying with the MAS Initiative and Inspection Campaign and should not be seen as a cause for concern.
Our drivers are well trained, dedicated members of the Division and safely transporting students to and from school is taken with the utmost care and seriousness by our drivers and the entire Division. Wolf Creek Public Schools understands the importance of such an inspection campaign, and will comply fully with the inspection.
Thank you for your understanding and if you have any questions or concerns please feel free to contact our Transportation Department at: transportation@wolfcreek.ab.ca or phone us at 403-785-0726.
Back to all posts