Posted on
IREC teacher nominated for PM award of excellence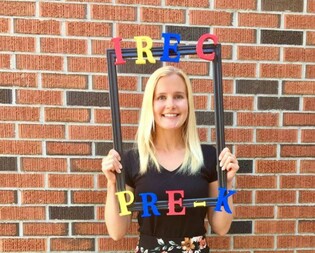 Iron Ridge Elementary Campus Pre-K teacher Meaghan Bouchard has been nominated for the Prime Minister's Awards for Excellence in Early Childhood Education. 
Holding two degrees — Bachelor of Education degree with a specialization in Early Childhood Education and a Bachelor of Arts majoring in Sociology, concentrating in Gender, Family and Work — Bouchard is a lifelong learner, whose efforts have not gone unnoticed in her school community. 
"Meaghan's classroom is intentionally designed to promote a calm, comfortable, and inclusive learning environment," said Maureen Schlemko, Iron Ridge Elementary Campus principal. "She is a dedicated passionate teacher who creates many opportunities for skill development, play based learning, social skills, building and nurturing emotional intelligence and fostering critical thinking skills." 
In 2020, Bouchard, as well as most educators were asked to switch to online learning due to the pandemic. Meaghan was very quick to organize and establish a successful online program that continued to engage and interest her students and connect with families. 
"It is an incredibly challenging task to keep pre-school aged children engaged in online learning, but Meaghan always found new and exciting ways to keep families logging in for our next meet," said Schlemko, "Her communication skills with parents and her willingness to help with anything families needed made this time successful for all."  
Currently, Bouchard is enrolled in Guided Play: Closing the Covid Gap Through High Impact Practices in Early Childhood Settings through the Calgary Regional Consortium. She has also attended learning/information sessions specialized in speech-language pathology support, and regarding programs for students with developmental speech problems, Apraxia, Autism Spectrum disorder and mild/moderate speech delays.
"Meaghan is a leader and a mentor within Bright Futures Play Academy (BFPA) staff. She has willingly mentored new teachers to the program by meeting with them, sharing resources, answering questions and doing some joint planning," said Schlemko. "There is no doubt that she will continue to grow and positively provide leadership to her students, families, colleagues and school community."
The Prime Minister's Awards for Excellence in Early Childhood Education honors outstanding and innovative early childhood educators for their leadership, exemplary early childhood education practices, and their commitment to help build the foundation children need to make the best possible start in life.
Each year, the Prime Minister's Awards for Excellence in Early Childhood Education awards up to five Certificates of Excellence and up to 10 Certificates of Achievement. Awards recipients are generally announced in the fall. 
Back to all posts