Posted on
Kerri McKinnon appointed coordinator with WCPS' Education Services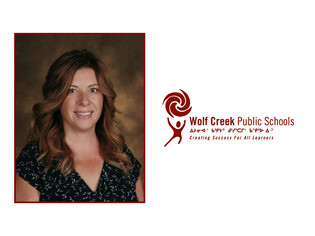 Wolf Creek Public Schools (WCPS) is pleased to announce the appointment of Kerri McKinnon coordinator with Education Services.
McKinnon joins Wolf Creek from Wetaskiwin Regional Public Schools, where she is the Inclusion Coach at Wetaskiwin Composite High School.  
"Kerri brings a variety of teaching experience to this position including at the junior and senior high school level," said Sonja Dykslag, assistant superintendent of People Services. "Kerri's passion and expertise in the area of inclusion and meeting the needs of all students will serve Wolf Creek well as she takes on this new role."  
McKinnon holds both a Master of Education in Leadership and Educational Improvement as well as a Bachelor of Education in English and CTS both from the University of Alberta. As well, McKinnon holds a Bachelor of Art in English and Psychology with a Minor in Exceptionalities from Concordia University. 
"I am honoured to join the Wolf Creek team. The opportunity to work alongside the Educational Services team fills me with enthusiasm as we strive to create an inclusive and enriching environment together with our partnering schools," said McKinnon. "My goal is to ensure that students have the opportunity to reach their full potential in their educational journey."
Back to all posts