Posted on
Kory Reimer Appointed Principal of Eckville Jr Sr High School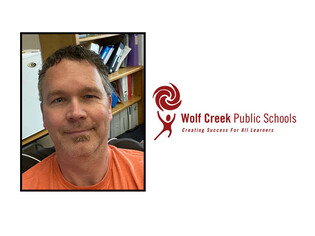 Wolf Creek Public Schools (WCPS) is pleased to announce the appointment of Mr. Kory Reimer as principal of Eckville Jr Sr High School (EJSHS).
Mr. Reimer has been serving in the role of assistant principal at Eckville Elementary School for the past four years. Prior to this, he served as assistant principal at Bluffton School for one year. Mr. Reimer began his teaching career with Northlands School Division in both Grouard and High Prairie. 
"We are most confident in Kory's ability to build on the momentum at Eckville Jr Sr High School. His passion for students will enable him to continue making a positive impact on the Eckville community," said Corrine Thorsteinson, assistant superintendent - People Services.
Mr. Reimer holds a Master of Education Degree in Instructional Leadership from The University of Calgary. Additionally, he holds a B.Ed from the University of Alberta and a Diploma in Kinesiology from Red Deer College. 
"I am very excited to become the new principal of Eckville Jr Sr High School, and am very eager to work with a great staff there who truly care about the kids in their classroom. I am also looking forward to reconnecting with many of the students in EJSHS, who were former students of mine at Eckville Elementary," said Reimer. "I believe much of what we do hinges on positive relationships in a school setting, and without that a positive school culture is difficult to build. We as a staff will continue on with that tradition of a positive school culture in order to ensure the success of all students in our building."    
Back to all posts