Posted on
Mat Bergonzine appointed new Director of Business Services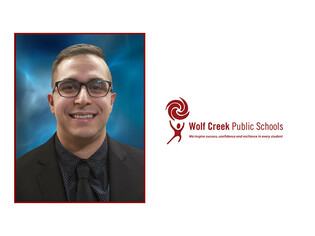 Wolf Creek Public Schools (WCPS) is pleased to announce the appointment of Mat Bergonzine as new Director of Business Services. 
"Mat has always shown to be a strong asset to the Division. We are excited that the skill and knowledge Mat brings will help ensure that the collaborative and prudent management of the Division's Business Services department continues," said Kevin Pobuda, incoming Secretary Treasurer.
Bergonzine has served with Wolf Creek as an accountant since 2019, and before that for three years as a senior accountant with MNP. He has a Bachelor in Business Administration and a Chartered Professional Accountant Designation. 
"I am excited about this opportunity to grow my career within Wolf Creek Public Schools," said Bergonzine. "I'm eager to continue strengthening the relationships I have established within the Division, working in a manner that fosters support and understanding that serves our mission of creating success for all learners."
Bergonzine takes the position of Director of Business Services, as Pobuda assumes the role of Secretary Treasurer in December.
Back to all posts