Posted on
Mecca Glen students hear message of passion and perseverance from Canadian Olympian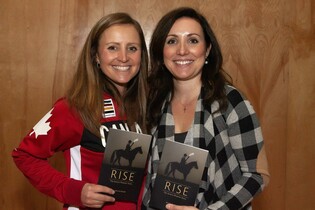 "They need to have and find something they are incredibly passionate about. And, to keep striving to reach that."
That was the message from multiple equestrian medalist and Olympian Jessica Phoenix to Mecca Glen students, during a special assembly at the school before the Christmas break.
"We all know that in life you are definitely going to have your ups and downs, just to share with them that it is OK that you go through ups and downs and that you just have to stay positive and keep going."
Phoenix, who has nabbed gold, silver and bronze at multiple Pan Am games, has suffered many setbacks on her goal to compete and medal at the Olympics. Those setbacks have included serious and long term injury and recovery. Phoenix did compete at the London 2012 Summer Olympics and the 2016 Rio Summer Olympics. She is now working towards the 2020 Tokyo Summer Olympics with a goal of gold.
She said that speaking to youth about those goals and what it takes to overcome setbacks is one of the best parts of her life.
"As a fulltime equestrian, as a professional equestrian it often feels very selfish because you are on your horse and you are riding for your own goals. To be able to come and share this message with thousands of children across Canada is a dream come true," said Phoenix.
"It really brings it full circle for me and if you can just inspire one kid every time we do this presentation it means the world to me. It really is amazing to be able to connect on this level and inspire the youth of Canada."
Phoenix's sister, acclaimed journalist Julie Fitz-Gerald, chronicles Phoenix's story in RISE: The Jessica Phoenix Story. She joins her sister meeting with students to tell them not all goals are Olympic gold — hers was to be a journalist and writer — but all goals are worth striving for.
"It is the biggest part of our message to encourage kids that everyone has their own unique talent, their own unique gifts and encourage them in those to figure out what it is and to develop it," said Fitz-Gerald.
"Kids are at such a great age when we come into these schools and they are just figuring out what they like to do, so getting to encourage them is very special. They need to hear that when times get tough you have to keep going, and that it is OK to fail … and get back up and keep going."
Back to all posts