Posted on
Media Release: International Learning Program Welcoming Ceremony a Success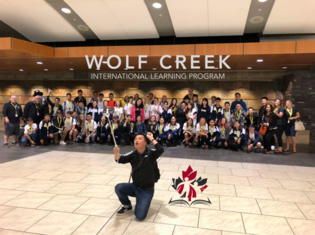 For Immediate Release: July 26, 2018
After months of planning, Wolf Creek Public Schools welcomed over 65 students from Guangdong Province, China at the official Welcoming Ceremony in Lacombe, Alberta July 26, 2018. Dignitaries, distinguished guests, teachers, students, ambassadors and host families along with Wolf Creek's Board, Superintendent and Learning Services team members took part in the event.
It was a mere eight months ago, December 2017, that Wolf Creek Public Schools was approached by a representative from Guangdong AQG Educational Consulting Ltd. about the possibility of Wolf Creek embarking on an exciting new opportunity of providing international education with students in the Guangdong region of China. Wolf Creek was identified as being a suitable partner for this initiative and based on their preliminary research were also considered an excellent candidate. Fast forward to March 2018 when Superintendent of Schools, Mr. Jayson Lovell; Assistant Superintendent of Learning Services, Mr. Mark McWhinnie and Director, Mr. Sean Lougheed were honoured and privileged to represent Wolf Creek Public Schools at the Memorandum of Understanding (MOU) signing ceremony in Guangzhou, China as the first Alberta K-12 school district to formally sign an MOU with the Guangdong Region of China.
"The significance of this new exchange experience cannot be underestimated for both countries as our goal in developing an International Program has been to create new pathways to build strong cultural and academic opportunities for students and staff," said Superintendent Lovell. "We believe we owe it to our students to prepare them to communicate with and appreciate other cultures, learn more about the international community, and become global citizens."
This ceremony marks the beginning of an exciting relationship as we plan to welcome several hundred students each year during various times of the school year and summer break to our school division for both short-term and long-term stays. Parliamentary Secretary Ms. Annie McKitrick, Lacombe Mayor Grant Creasy along with Wolf Creek Public Schools Madame Chair Pam Hansen and Superintendent Jayson Lovell welcomed students from Guangdong Province in China for three (3) weeks this summer to our community; as well as many reciprocating speeches from Chinese Dignitaries and visiting students. Students shared how important this experience was for them as individuals and as a team.
The International Learning Summer Program started with the arrival of visiting students from the Tieyi School on July 20, 2018 with Wolf Creek Student Ambassadors welcoming students at the Calgary International Airport. Their arrival embarked on the first phase of the International Learning Summer Program in Wolf Creek. A full itinerary gave visiting students a true Alberta and Canadian experience; with activities focused on English language skills, robotics and music. Language experiences were integrated into planned excursions to Lake Louise, Banff, Edmonton, Drumheller, Jasper, and Calgary. As the Tieyi students time was wrapping up, new students from both the Liwan Education Bureau and Yuexiu Education Bureau were welcomed in the same fashion upon their arrival to Alberta and will be taking in similar experiences with educational activities throughout their stay including a tour of Red Deer College through four RDC experiences: Makerspace; Centre for Innovation; Robotic Arms/Festo Lab and Visual/Perform Arts.
Alberta Education has been highly supportive about the participation in this exchange experience and offered further supports both in China and in Alberta in facilitating this opportunity for students. Parliamentary Secretary, Ms. Annie McKitrick attended the ceremony on behalf of the Education Minister. Ms. McKitrick welcomed visiting students to Alberta and offered words of encouragement to learn and benefit from this experience. She is very proud of international education and is testament to the advantages of having studied abroad and worked in many places around the world. "Initiatives like Wolf Creek Public Schools' International Learning Program build on the strength of Alberta's diversity and help students learn more about themselves and the world around them," said Ms. McKitrick. "My own personal experience as an international student in France, Thailand, Great Britain, and the United States has taught me the value of these experiences." She adds, "Our government is committed to preparing students for success in a diverse society and we thank Wolf Creek Public Schools for their work."
Wolf Creek would like to express appreciation to all of the homestay families in Central Alberta that took part in hosting the students during their stay and the many volunteers from the community and the school division that made this program successful.
A delegation of our own students from Wolf Creek will also be participating in a reciprocal visit in March 2019 and a similar ceremony will be held there in China to welcome them and mark the first reciprocal student visit from Wolf Creek Public Schools.
- 30 -
For more information, please contact:
Mark McWhinnie, Assistant Superintendent, Learning Services
Phone: 403-783-3473
Email: mark.mcwhinnie@wolfcreek.ab.ca
To view this media release in Google format and view pictures CLICK HERE
Back to all posts