Posted on
Media Release: Wolf Creek Faces Challenging New Realities to Balance Budget 2018/19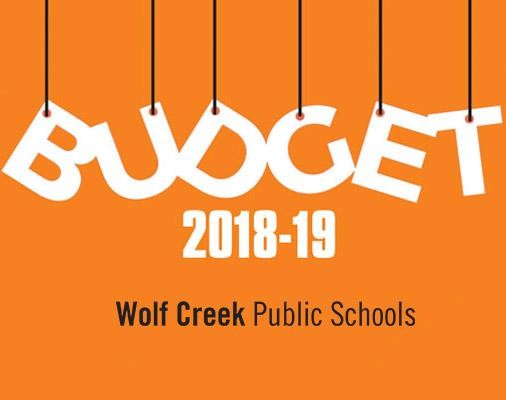 For Immediate Release: April 17, 2018
At their April 12, 2018 Board Meeting, the Board of Trustees approved, in principle, budget 2018/19. The Board deliberated on budget priorities and assumptions with $86,757,409 projected revenue while facing a need to reduce overall expenditures by $2,641,675 to create a balanced budget.
With limited operational reserves, reduced revenue from declining student enrolment, and increasing utility and transportation costs, the Board was significantly challenged to strike a balance to maintain existing programs and levels of support while creating a balanced budget.
The budget priorities, as established by the Board prior to budget deliberations, including a strong commitment to maintaining classroom teachers, educational assistants, the district's Three-Year Education Plan priorities, and ensure the well-being of students and staff.
Budget 2018/19 highlights include strong support for many core services and supports including the maintenance of classroom teachers, educational assistants, school operational budgets, and professional development funding for teachers and administrators.
The $2.6 million deficit reduction will be achieved through balanced reductions in central office staff and operations and primarily staff supporting Inclusive Learning programming. One area where the Board made large reductions saw Inclusive Education Coaches reduced from from 15.7 full-time equivalent to 9.0 full-time equivalent and school social workers will be reduced from 19.67 full-time equivalent to 10.0 full-time equivalent. These reductions will impact classroom service delivery to students with diverse learning needs. Additionally, rising utility and transportation costs further impacted the budget.
Historically, the Board has demonstrated a strong commitment to supporting students and staff in the area of Inclusive Learning by funding an additional $35 million over six years to supplement the budget provided by Alberta Education.
"Budget 2018/19 demonstrates a strong commitment from the Board to support our classrooms to ensure our students continue to excel in all aspects of Pre-K to 12 education. Faced with new fiscal realities, a balanced approach was taken to maintain core services. Clearly, the most difficult aspect of this budget was the need to reduce front-line staff in a variety of areas which was not taken lightly during budget deliberations", stated Lorrie Jess, Board Chair.
Wolf Creek senior leadership is now moving the budget forward in preparation for the 2018/19 school year.
- 30 -
For more information, please contact:
Jayson Lovell, Superintendent of Schools
Phone: 403-783-3473
Email: jayson.lovell@wolfcreek.ab.ca
To view this media release in Google format CLICK HERE
Back to all posts