Posted on
Meet the Candidates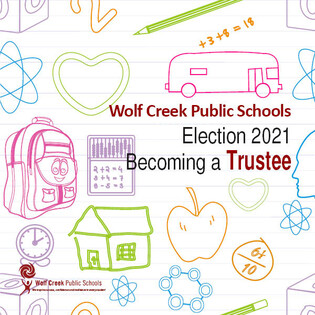 WCPS Candidate Profiles
The following profiles are of WCPS trustee candidates, those who have been acclaimed and those (in Ward C exclusivley) that will face an election in their ward on October 18, 2021. 
Where it indicates acclaimed, the candidates in that ward have been acclaimed. 
Where it indicates election, the candidates in that ward will face an election. 
Ward A (1 Position) - Acclaimed

 

Luci Henry

My husband Garth and I live in the Village of Clive and are the proud parents of two children aged 22 & 24 who attended WCPS K-12. We love our rural life, spending time on the deck listening to and watching the birds at our backyard feeders. I have a passion for community service which is why I have spent over 20 years volunteering my time where I can. Part of that volunteer work was spent as the Parent Council Chair in Clive for 12 years. I have been elected to sit on the Village of Clive Council since 2007, I served as Deputy Mayor until 2017; the past 4 years as Mayor. I was elected as WCPS Ward 1 Trustee in 2017, where I have had the pleasure of sitting as Board Vice Chair for three years and the Zone 4 Vice Chair for two.

I've thoroughly enjoyed being a Trustee, I wanted to continue to be part of a team that helps to foster change and growth in an ever-changing world. I love that each trustee comes from different communities/regions and they express an interest in being a voice within their community – allowing for the articulation of their unique perspectives, values, experiences and visions; which will benefit all students/staff across the division. I believe we need to provide educational opportunities for everyone from students, parents/guardians and staff to help them recognize the value of their input, build self-esteem and to inspire an interest in participating.
While serving as trustee alongside my municipal and volunteer responsibilities; I have expanded my knowledge and leadership skills to work with all levels of government, to gain local, regional and provincial outcomes which will benefit every school in Wolf Creek as well as the communities they reside in.

I understand the challenges families face in these uncertain times and will continue to support a focused pandemic recovery. As we begin this recovery, we'll need to provide the students, families and staff with the resources and support they need. We're going to need to focus on learning interventions to address some of the learning gaps and losses that may have been experienced since March 2020, as well as the social and emotional needs. Before the pandemic gaps existed, but now they are seen more clearly. Gaps between men/women, rich/poor, urban/rural. Recovery needs to be equitable for all, we need to think about women, LGBTQ, and marginalized people. We are only beginning to see and understand Canada's history from an Indigenous perspective. Each one of us has a role to play in acknowledging the atrocities & injustice that took place. Healing & reconciliation will make us stronger together.

 

Ward B (1 Position) - Acclaimed

 

Lana Thompson

I am a proud wife and mother of two with a ten year local background in graphic design. Creativity and personal relations has always been my passion. I love being involved within our community as Ponoka has been my home for over 28 years. As a mother who is seeing her daughter off to school for the first time this year, I am looking forward to becoming even more involved in the school division. I can not wait to assist in bettering our school system for all the students within the division. I am new to public office, but I feel a fresh perspective while gathering insight and information from our school staff and students is always welcomed while engaging the community to the best of my abilities.

I made the decision to run for a trusteeship in Wolf Creek Public Schools because I felt it would be incredibly rewarding while bettering the community. What made me initially run was knowing that I would be working with and being the voice of parents and public community members while helping to ensure the best education possible for our children. I signed up for the Parent Council this year but this opportunity came up and I felt I would make a larger impact in the school division as a trustee. I am excited to reach out to parents and members of our community to assist in ensuring that education is given the highest priority. I am eager to help make changes that benefit the students within Wolf Creek Public Schools. I will ensure policies and practices are effective while also ensuring effective management of resources.

My priority as a trustee is helping make a difference while caring about the needs of children today and for the future. I will provide important oversight while ensuring parents' voices are heard and students' goals are reached. My aim is for overall success and wellness of all students in Wolf Creek Public Schools. I will strive to create and maintain the best education possible. In my trusteeship, as an advocate for Alberta's children, I will make changes that benefit students and schools. Lobbying all orders of government to ensure our local voices are fully heard and hold them accountable on keeping our education needs a top priority.

 

Ward C (1 Position) - Election

 

Trudy Bratland

Before becoming a stay at home mom, I worked at a large law firm in Edmonton eventually becoming a paralegal. When my husband's career took us to Camrose and eventually Rimbey, I stayed at home with our two children and became involved in their education and activities, volunteering to support their interests. During that time I was the Coordinator for the Rimbey ECS and part time Assistant Librarian for the Town of Rimbey, then worked in the office at the Rimbey FCSS/RCHHS for a number of years. I have always worked with and for children from supervising playground activities to minor hockey and many things in between and have taken on leadership roles when called upon to do so. I have been and continue to be involved with my church. I believe in fully supporting any organization I become involved in and have done so during my work and volunteer endeavours.

As I have held a number of volunteer positions within the community and have been involved with children and the education system I was approached by Community members to consider running for the School Board position to represent this area. I took the encouragement seriously and was successful in that election.

The priorities that I have include a smooth transition into this school year and future years for our students, parents and staff that have had to deal with so many changes over the past number of months. I plan to continue to advocate for ALL of our students to receive a quality education no matter where they live. I am also proud of the way that Wolf Creek Public Schools supports our students, staff and parents with the resources they have and would consider that culture a priority for me.

Alexis Soltice

I live with my husband and our two daughters in the Forshee district north of Bentley. Our eldest daughter is in her first year of college, while our youngest daughter is in Grade 11 at Bentley School. My daughters and I are active in the dressage and three-day eventing communities. I am a director in the Parkland and Area Dressage Association, and assistant district commissioner of Red Deer Pony Club. My involvement with the Canadian Pony Club spans many years and I have held numerous positions at the regional level including secretary, quiz chair and membership chair. These are all volunteer positions that I have enjoyed as both a parent and member.

Professionally, I have three university degrees: Bachelor of Arts Degree in English, Master of Arts Degree in Educational Policy and Administrative Studies, and a PhD in Educational Leadership. My academic direction has always been primarily focussed on research and evaluation. Education as a field of study will always be a passion, and I firmly believe that education is a life-long process.

As a student of education I perceived it as a field of study that is dynamic and ever-changing. My Doctoral thesis focussed on the life and accomplishments of an education pioneer in our community: Mary Irene Parlby from Alix.

In addition to being a member of the Famous Five, she was also a founding member of the United Farm Women of Alberta, and an early builder of the educational system we know today. It was important to me to understand the genesis of our educational system from a rural perspective.

When I became a parent to two daughters educated in the public school system I was then involved from a more practical day to day perspective. This is just as important as the academic view of Education. For me, a trusteeship position is a joining of my academic and personal experiences, and I would like to become directly involved in the school division.

Rural education has always been my focus. I was raised in a family that valued an education, but also the rural lifestyle and hard work. These are my core values. My priority would be to always consider the rural perspective, and remain sensitive to the views of everyone in my ward.

 

Ward D (2 Positions) - Acclaimed

 

Brent Buchanan

With a Masters in Education, I pursued my love of teaching for 26 awesome years as an educator and administrator. My passion for public education runs deep. Since retiring from Wolf Creek Public Schools, I have spent the last four years serving children and families in Blackfalds and Lacombe as a School Board trustee. I have been married to my beautiful wife for 40 years. We have six wonderful children as well as 11 grandchildren. I enjoy spending time with my family, playing golf, volleyball, and continuing to learn new songs on my five-string banjo.

Nelson Mandela said that "education is the greatest weapon to create change." I believe that education has the power to create the changes we need in this world, and I'm motivated to create positive changes in public education. In my decades of experience as an educator and administrator, and in my term as a School Trustee, I have seen a vast amount of change and I am seeking more change to ensure our children and grandchildren have the opportunity to partake of the best education possible. I support Wolf Creek Public Schools vision for public education and I look forward to what more we can accomplish together.

As a democratically elected official I know I am accountable to our schools, our communities and the province. I am a champion of public education and my priorities are to:

Embrace an inclusive environment that supports collaboration among all stakeholders to best serve students. 
Ensure the values of democracy shape the future in order to develop good citizens. 
Safeguard a world class education system that teaches critical thinking through innovation and equitable learning experiences, so all students can be successful. 
Continue to serve Wolf Creek and champion public education.

Kelly Lowry

I am a wife and mom of five adult children and the grandmother of 10 grandchildren.  We moved to Lacombe County in 1987 and I was privileged to serve on the Town of Lacombe Recreation and Culture Board for four years before running my first election in 1999, when I was elected and served three terms with Wolf Creek Public Schools  as a trustee. Once my children graduated from high school I took a few terms off to go back to school and complete my funeral and embalming degree.  I served in that industry for four years. I also spent 30 years as an office manager in a dental office in Lacombe, where I created office policies, computer training, scheduling, payroll account payable and worked with fantastic patients and a wonder team at the dental office. It was wonderful to be a part of such a great community as Lacombe and area.

The last four years have been an amazing time serving as a Wolf Creek Public Schools' trustee. I have learned lots and relearned some of what I forgot from my previous terms serving. Parents, students, educators and trustees, it's been so wonderful to serve with you. I am always amazed by the passion and the wonderful things that happen in our school because of the team at Wolf Creek. People that serve in the education field have large hearts and strong minds that allow them to be student-focused and do what is best for students. I want to continue to help move our Education in Wolf Creek forward. As a Board we have been able to build good relationships with our MLAs and the Minister of Education and other government ministries, and hope to continue working with them. We were able to change the electoral ward boundary lines in Wolf Creek to reflect the population base, which means there will be new people sitting on our Board. I look forward to working with them and learning from them and helping each other through the good times and the challenging times that will be ahead of us.

My priorities are: students, educators, and community. I feel like we need to keep the Community in our schools.  I believe a community always knows what is best for our community and schools. Decisions made at the grassroot level will reflect our community desires, needs and values.  We have a new leadership team in Wolf Creek and a priority is to help them get grounded and continue on with the Wolf Creek tradition of collaborative and inclusive education. Teamwork and people will always be a top priority for me. Thank you to all the people who voted for me in the last election and believed in me. I am humbled by your support and will be forever grateful for this opportunity to serve you again this term. Education is a top priority as I believe it is through education that will soften hearts and have a greater understanding of each other, which will bring the community together.

A big thank you to all that serve in the education field, We NEED EVERYONE OF YOU.

 

Ward E (1 Position) - Acclaimed

 
 

Darryl Stendie

I am a proud father of four wonderful children. My wife and I moved to Blackfalds over 12 years ago. As of this fall, we have children attending every school within Blackfalds. This will be the case for the entirety of my term as our youngest will begin attending Iron Ridge Elementary in 2022 and our eldest will be amongst the first groups to benefit from our upcoming High School.

The last seven years of my professional life has been dedicated to I.T. in local government. This role has taught me the importance of life-long learning, technology and building strong professional relationships. Previously, I was a rehabilitation aide for people of varying physical and mental abilities. This role taught me the values of empathy and advocacy.

I became Interested after attending school council meetings and sitting on a fundraising board for a Blackfalds school. I started giving serious thought to serving Blackfalds as trustee when I learned that Wolf Creek Public Schools was redefining their boundaries and giving Blackfalds its own trustee.

As a new trustee in a newly created ward, I have a lot to prioritize. First and foremost, I must work for fair, equitable and inclusive education for all the Wolf Creek students within Blackfalds. While I believe my skill set will make me a good trustee, I must listen and learn in order to become a great trustee. I will be available to the residents of Blackfalds and listen to them. The newly created ward presents me with a unique and beneficial position. The previous Blackfalds Trustees for our area will remain as trustees for Wolf Creek in their ward. They have done great work and will be a fantastic resource for me on my journey to serve Blackfalds.

 
Back to all posts