Posted on
Melanie Jones appointed acting assistant principal at Rimbey Junior Senior High School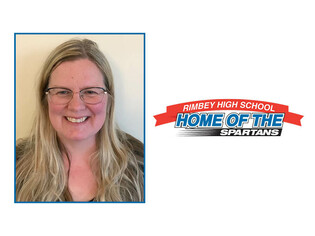 Rimbey — Wolf Creek Public Schools (WCPS) is pleased to announce the appointment of Melanie Jones, as acting assistant principal at Rimbey Junior Senior High School (RJSHS) for the 2021/2022 school year. 
Jones comes to Wolf Creek from the Calgary Catholic School District (CCSD), where she has served as an assistant principal and vice principal in CCSD since 2014. Prior to her work in administration, Jones worked in a variety of teaching environments including with special needs students and diverse learners. Before joining CCSD, Jones started her teaching career in Turner Valley.
"Melanie has recently relocated with her family to central Alberta and is excited to join both Wolf Creek and the Rimbey Junior Senior High School Community," said  Corrine Thorsteinson, assistant superintendent - People Services. "We are excited to have her join the Wolf Creek and the RJSHS team. We know her administrative and teaching experiences will serve her well in this new role."
Jones holds a Bachelor of Arts in History and Linguistics (2003) from the University of Calgary, a Bachelor of  Education, Master of Teaching Program (2005) from the University of Calgary and a Masters in the Contemporary World from the University of St. Andrews (2013).
"I'm excited to join Rimbey Junior Senior High School and to be a part of the administration team," said Jones.  "Everyone has been so welcoming. I look forward to beginning my time with this district." 
This position became available, following Chris Oram's appointed as the assistant principal at École Secondaire Lacombe Composite High School.
Back to all posts