Posted on
Mental Health Symposium Empowers Students to Recognize and Cope with Mental Health Challenges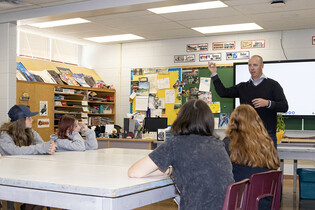 Alix Mac School hosted its second annual Mental Health Symposium aimed at equipping students with the knowledge and tools to recognize and cope with the issues of mental health. 
From reality show experience to rescuing animals, law enforcement and pro sports, the symposium featured a lineup of speakers sharing expertise and personal experiences on various aspects of mental well-being.
Wolf Creek Public Schools school social worker Janice Besuijen, said this year's event, for grades 7 to 12 students from Alix MAC School and Mecca Glen School, built on experiences from last year's symposium for students. 
"Last year was the first really big one that we did. I sent out a survey to kids after, and there was a lot of feedback on the things they really wanted to talk about," she said, adding that coming out of COVID, helping students recognize the pathways to support mental health is crucial. 
The symposium, held on May 5, had a variety of presenters. Penny Warford has lived near Alix since she graduated from Alix Mac School. She is the Mental Health capacity building program manager with Clearview Public Schools and led the students through a therapeutic art project. Former NHL hockey player Noah Welch spoke about his time growing up in hockey and playing pro hockey. He told about how faith has grounded him and his life. Representatives with Saving Grace Animal Rescue told students how rewarding their work is, but also how challenging it can be on mental health. School Resource Officer Dave Lahucik has more than 30 years experience in law enforcement and shared how he finds strength and support through difficult and traumatic events. Bethany Bieda is a school social worker who was a contestant on the reality TV show Big Brother Canada; she shared her experience and the social media impact from a quick rise to fame following the show. Other speakers included Rory Lynch, a fire medic who spoke about his high stress profession, Dan Geddert, a father and grandfather, who spoke on grief and loss, and representatives from the addictions organization Turning Point spoke about drug awareness and mental health. 
Also incorporated were physical activities to promote the connection between physical and mental well-being, including dodgeball, kickball, basketball, and volleyball.
Besuijen said it was important to have variety to show how people cope individually. 
"Students had that opportunity to hear people talk about what worked for them and then they as students will be able to get a better understanding when they need to decide whether that pathway would work for them too," she said. 
In addressing the students at the start of the symposium, Alix MAC principal Adrian Paolinelli said it is important to reach out. 
"If we keep those things inside, we don't know how we will let them out. If we reach out to people around us and our support systems, we can get through anything," he said. 
Besuijen added everyone experiences an impact on their mental health and seeking support should be embraced.    
"It's being aware of when you need to seek support, and hopefully a little piece that will come out of all of the presenters," she said. "It doesn't matter what the job is, there are always going to be some challenges and mental health doesn't just happen. You have to work for it. You have to be aware of when you need that support and how to ask for that support." 
Mental Health Symposium at Alix MAC School
Back to all posts