Posted on
Mr. Chris Oram appointed Acting Assistant Principal at ÉSLCHS for the 21/22 School Year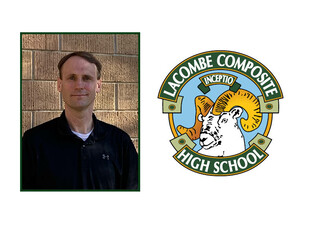 Lacombe — Wolf Creek Public Schools (WCPS) is pleased to announce the appointment of Mr. Chris Oram as the acting assistant principal of École Secondaire Lacombe Composite High School for the 2021/2022 school year. 
"Chris provides tremendous leadership and will be a great asset and addition to ÉSLCHS," said Corrine Thorsteinson, assistant superintendent - people services. "We are confident that Chris's skills will continue to build on the strong established leadership at ÉSLCHS."
Oram has been with Wolf Creek since 2000 where he started as a teacher at École Lacombe Junior High School before he was appointed to the position of assistant principal at Rimbey Junior Senior High School in 2007. 
"I am really looking forward to joining the team at École Secondaire Lacombe Composite High School and to have the opportunity to work with the staff and students in the community of Lacombe," said Oram.
Oram holds a Bachelor of Arts/Education (2000) from the University of Lethbridge and a Masters in Educational Studies from the University of Alberta (2008). He has a diverse background as an educator and is a strong advocate for all students.
This position is open, as Mr. Jay Adamson has been appointed acting principal at Crestomere School for the 2021/2022 school year. 
Back to all posts