Posted on
Mr. Jay Adamson appointed Acting Principal at Crestomere School for the 21/22 School Year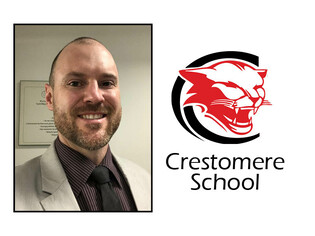 Crestomere — Wolf Creek Public Schools (WCPS) is pleased to announce the appointment of Mr. Jay Adamson as the acting principal of Crestomere School for the 2021/2022 school year. 
Mr. Adamson has been a "Wolf Creeker" since 2013 in the position of assistant principal at École Secondaire Lacombe Composite High School. Prior to joining WCPS, Adamson worked at West Central High in Rocky Mountain House and David Thompson High in Condor.
"We are most confident that Jay will continue the strong leadership and commitment to students and learning that has well been established at Crestomere School," said Corrine Thorsteinson, WCPS assistant superintendent - people services. "Jay has established a reputation for being a top notch educator who really puts the needs of students first. We know Jay will be an excellent fit for the Crestomere community."
"I very much look forward to joining the Crestomere community and collaboratively working with the parents, staff and students. I started my teaching career in a small rural high school very similar to Crestomere and I am excited about getting an opportunity to be the acting principal in a school like that again at Crestomere," said Adamson.  "I had the luxury to tour the school and see the amazing things that are being offered such as the environmental and agricultural opportunities and the variety of 21st Century teaching methods and learning opportunities the students have in the school."
Mr. Adamson holds a Bachelor of Education (2007) from the University of Alberta and a Masters In Teaching & Learning (2016) from Wilkes University. He takes the appointment as current principal Penny Neufeld is taking a year leave of absence from the school to pursue a teaching opportunity in Egypt. 
Back to all posts