Posted on
Mrs. Abbey Cruikshank Appointed Coordinator of Inclusive Learning Services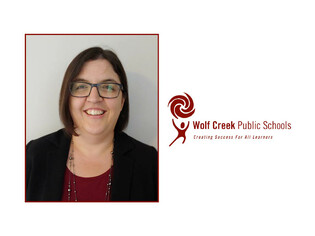 Wolf Creek Public Schools (WCPS) is pleased to announce the appointment of Mrs. Abbey Cruikshank to the position of coordinator of Inclusive Learning Services (ILS).
Cruikshank has served in Wolf Creek Public Schools since 2013. During that time she has worked as a teacher at Clive School and Wolf Creek Academy. Cruikshank has been an Inclusion Coach in the Division since 2017, serving Ponoka Secondary Campus, Wolf Creek Academy, Lacombe Outreach School, and Bentley School. Additionally, Cruikshank is a certified Nonviolent Crisis Intervention (NVCI) trainer.
Cruikshank taught in Saskatchewan for nearly 10 years, at a variety of grade levels, before joining WCPS. Abbey holds a Bachelor of Education degree from the University of Regina and is working towards a Master of Education in Leadership and Administration with the University of Alberta.
"We are thrilled to have Abbey join the ILS team," said Danica Martin, assistant superintendent of Inclusive Learning Services. "Her passion for inclusion and her desire to ensure that all students are successful will serve her well in this role. As well, her experience working with students who have significant behavioural challenges will allow her to support school teams in this area."
"I'm really excited to be joining the ILS team. I look forward to supporting WCPS vision of inclusion," said Cruikshank.
Cruikshank joined the ILS team during their retreat this week, where they finalize team roles and plan for next year.
Back to all posts