Posted on
Nathan McEntee Appointed Principal of Ponoka Elementary School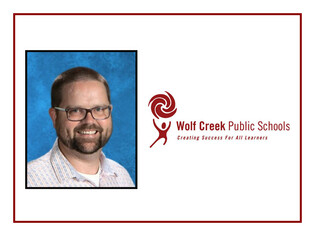 Ponoka — Wolf Creek Public Schools (WCPS) is pleased to announce the appointment of Mr. Nathan McEntee as principal of Ponoka Elementary School (PES).
Mr. McEntee has been serving in the role of acting principal at PES for the 2019/2020 school year. Prior to this, Mr. McEntee served as an Assistant Principal at PES, Gr. 6 Teacher, Learning Coach and Technology Coach. 
"Nathan's ability to build a solid rapport, strengthen relationships, and build trust will enable him to continue his great work leading the Ponoka Elementary School community," said Corrine Thorsteinson, assistant superintendent — People Services.
Mr. McEntee is currently pursuing his Master of Education degree in Educational Leadership from Concordia University-Portland. Additionally, he holds a B.Ed from the University of Alberta and a BSc. from the University of Lethbridge. 
"I am excited and honoured to continue working with such an amazing group of dedicated staff here at Ponoka Elementary," said McEntee. "I have been fortunate to be a part of PES for nine years now and know the strong parent and community support we have. This has been especially evident in the past three weeks. I am confident our school community will come out of this challenge stronger than ever and I am proud to be a part of it." 
Back to all posts