Posted on
Pink Shirt Day!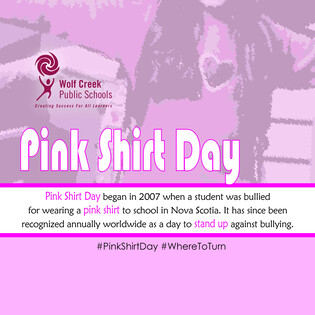 Pink Shirt Day crucial for schools around Wolf Creek Public Schools
Tim De Ruyck
Superintendent
When you see a cluster of pink shirts on students, it makes a statement. Students are using the pink shirts to show their support, to take a stand against bullying and choosing to be supportive and caring of one another. This is the essence of Pink Shirt Day, Feb. 23, 2022. 
In Wolf Creek Public Schools, students are off for break the week of Feb. 23, but students and staff in schools around the division marked Pink Shirt Day throughout the past week. Students and staff wore pink to encourage kindness and the importance of treating everyone with respect and dignity. There were bully awareness presentations, classroom and school-wide activities. In one school, pink balloons were set up and positive note tags attached to each balloon.  Other schools put notes on lockers for students. 
In Wolf Creek, supporting each other, supporting students and creating pathways to respect, kindness, self confidence and self worth go beyond this one day, or a week of activities. 
We have supports in place for Gay/Straight Alliances (GSA), where each school has a staff member trained as a GSA representative to consult, support and advocate for students, so they can feel safe, valued, respected and fully included in their school community. The Division has multiple partnerships with School Resource Officers, who come into the school to educate and support students on a variety of risks they will be exposed to as they grow, including bullying. There are behavioral supports in place that provide resources and strategies for teachers, students, families and other school staff.
Additionally, School Social Workers (SSW) play a huge role in supporting students. SSWs enhance the development of a student's educational, social, emotional, behavioral, and family experiences. They provide assistance to students and families on an individual basis, in group/classrooms, as well as parent sessions. In the work of SSWs, they report that signs of anxiety, family dynamics, self regulation, peer conflict and relationships are among the top issues students are seeking support for. The efforts of SSWs are helping, as 90 per cent of students indicated the SSW helped them deal with their problems, 93 per cent found the SSW supportive and helpful, and 93 per cent report that they would access the SSW program again.
From a Division perspective we want to thank all our staff that perform this crucial work, all our students who wear pink on Pink Shirt Day, but practice acts of kindness year round, and our school families that support our efforts and work closely with schools to help protect and lift up students. 
All these efforts, including wearing pink on Pink Shirt Day, highlight and help, support and strengthen, as we work to provide safe and caring learning environments, where all students can learn and feel like they belong.
Back to all posts