Posted on
PSC's Robert Campbell announced as finalist in international Custodians Are Key Program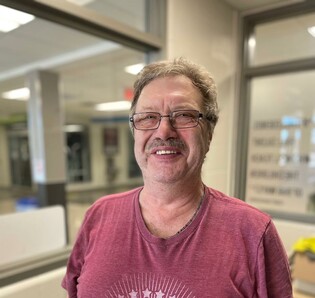 Longtime Ponoka Secondary Campus (PSC) custodian Robert Campbell is being honoured for his dedication to students and his school, as the first set of finalists in the Tennant Company "Custodians Are Key" program were announced.
"I was extremely shocked, but excited for this opportunity," said Campbell, of the eight-month recognition program that rewards the great work of K-12 custodians. "I enjoy work and especially enjoy working with staff that make it feel like family."
Campbell was nominated by PSC's administrative assistant Nicole Berg, and principal Kathy McTaggart said custodians like Campbell are vital to a school. 
"There is nothing more vital to keep a school operational than the duties of our hardworking custodians," said McTaggart. "Often the work of custodians is overlooked and simply expected but I do think we would notice very quickly if our custodians all of the sudden stopped doing their jobs. They are truly part of the grease that keeps the machine running."
She added that Campbell brings a unique positivity and joy to the school. 
"We are honored to have such a hard working employee like RC at PSC. We appreciate his reliability and positive personality around here," she said. 
"It makes a workplace a great place to be when you have positive people working in it and RC always has a kind word for everyone. He is part of the great team of custodians we have been lucky to enjoy these past several years at Ponoka Secondary Campus.
"Congratulations to RC, I am so pleased that you were nominated and recognized for your contribution to the positive culture we have here at Ponoka Secondary Campus. It takes a village to raise a child and RC is part of that village here at PSC."
Working at PSC for the past 15 years, Campbell is so far the only Canadian custodian to make the Custodians Are Key finals. William Trotter of Dorsey Attendance Center in Fulton, Mississippi; and Alonzo Henley of Brownsville Middle School in Miami join Campbell as the three initial finalists. Each receives a $500 gift card.
Campbell said he is honoured by the recognition. 
"I would be very surprised to win, but it's kind of nice that people recognize all the work over the years," he said. "I think it's great to recognize custodians as our hard work is often unnoticed with everything else going on."
Custodians Are Key launched Sept. 15 with a call for nominations, which closed Nov. 15. Twelve finalists will be selected, and a single winner will be announced May 14. The winner receives a prize valued at $5,000, while his or her school receives $10,000.
Back to all posts