Posted on
Registrations open for busing for 2021/22 school year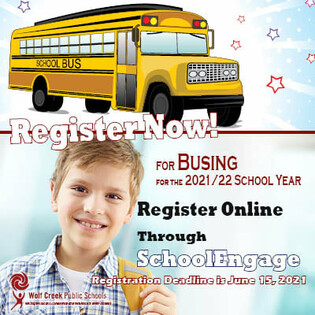 Wolf Creek is accepting busing registrations for the 2021/22 school year. Please know that User Fees are applied to students who live less than 2.4 km from school. User pay students are considered on a first come first serve basis, and only if there is available space.
A waiting list is applied for user pay students who are registering late and if the bus is full. If you have moved you must notify the school of the address change PRIOR to registering for busing.
All students who were not attending in-school classes or who were not riding the bus during the 2020-2021 school year were removed from the transportation system and therefore must register to ride in September.
Make sure you register online through SchoolEngage.
Back to all posts