Posted on
Request for Proposal — External Audit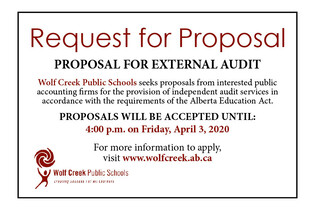 Wolf Creek Public Schools seeks proposals from interested public accounting firms for the provision of independent audit services in accordance with the requirements of the Alberta Education Act.
CLOSING DATE
Proposals will be accepted until 4:00 p.m. on Friday, April 3, 2020.
The lowest proposal will not necessarily be accepted. The Board of Trustees reserves the right to request additional information from companies and/or to request a subsequent proposal presentation to the Audit Committee. The Board of Trustees also reserves the right to decline any or all proposals made.
Proposals must be submitted in sealed envelope clearly marked
"PROPOSAL FOR EXTERNAL AUDIT" and addressed to:
Kevin Pobuda, CPA, CGA
Assistant Secretary-Treasurer
Wolf Creek Public Schools
6000 Hwy 2A
Ponoka AB T4J 1P6
Faxed and emailed proposals will be rejected.
ELIGIBILITY
The firm must be eligible in accordance with Section 137 of the Alberta Education Act.
The firm must demonstrate an ability to carry out the audit to full professional standards, in conformity with provincial requirements, Public Sector Accounting Standards and Board expectations.
ADDITIONAL INFORMATION
For full information on the RFP, please download the document here: RFP-External Auditor 2020
Back to all posts