Posted on
RES received $100,000 grant from Co-op Community Spaces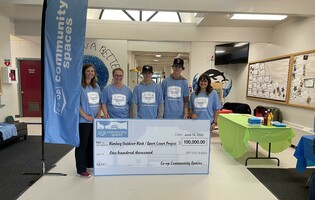 Rimbey Elementary School students and staff got some great news, just as the school year was winding down. 
The school was selected as a recipient of the Co-op Community Spaces Grant for $100,000 to go to their outdoor rink/sport court facility project. 
"The reason this is an exciting story isn't only because of the money, but the fact that three boys started it as a school project when they were in Grade 6, and they are in Grade 10 now. So this project has been a long time in the works," said Kathleen Beagle, Rimbey Elementary School teacher. "It's also exciting because of the community coming together to support this effort."
The project calls for repairs and upgrades to an existing outdoor rink, and the addition of an outdoor basketball court. 
Through the years, since the young students first proposed the idea, there have been a number of fundraisers to help finance the project. But, fundraising wasn't going to be the only way to get the money needed. Students learned how to and received some help in writing grant applications, that included for the Co-op Community Spaces grant. 
"Co-op Community spaces is about our commitment to protect, beautify and improve the spaces where communities across Western Canada come together," said Pam Skotnitsky, Vice-President of Strategy at Federated Co-operatives Limited (FCL). "The work and dedication of our recipient groups is inspiring, and we are proud to contribute to projects that will benefit the people in these communities for years to come."  
This project, located at Rimbey Elementary School, was one of a number of recipients of grants throughout Canada. 
The group is currently gathering bids for concrete and preparing the land for construction. After that, the surface will be covered with a Sport Court material.
The project has become an all seasons surface, providing the community with opportunities for basketball, pickleball, skating and hockey, curling activities and many other court games.
Since 2015, Co-op Community Spaces has provided $11.5 million to 160 projects in three categories: recreation, environmental conservation and urban agriculture. The program was developed as part of Co-op's commitment to invest in the communities it serves.  
Back to all posts