Posted on
Robyn MacEachern appointed assistant principal at Rimbey Junior Senior High School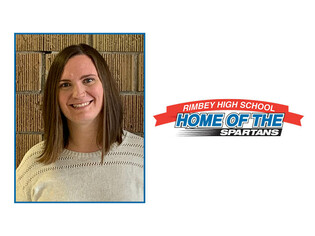 Rimbey — Wolf Creek Public Schools (WCPS) is pleased to announce the appointment of Robyn MacEachern as assistant principal at Rimbey Junior Senior High School (RJSHS). 
MacEachern has been in Wolf Creek since 2012, teaching primarily at Rimbey Junior Senior High School. She also served for one year as the lead teacher for the Wolf Creek International Learning Program. Prior to teaching in Wolf Creek, Robyn taught in South Korea, New Brunswick and Manitoba.
"Robyn has had many experiences as an educator and is enthusiastic to serve all students. Robyn is excited to join the administration team at Rimbey Junior Senior High, and we are excited to have her take this opportunity and know her leadership skills will be an asset," said Corrine Thorsteinson, assistant superintendent - People Services.
MacEachern holds a Bachelor of Arts in Social Sciences (2004) from McMaster University, a Bachelor of  Education (2008) from the University of Maine and a Masters in Science from Wilkes University (2018).
"I'm very excited to continue to work with the fantastic students at RJSHS in this new role. I also look forward to working more closely with the staff, parents, and other community members who support our students and our school," said MacEachern. 
This position became available following Bill Bramfield's appointment as the principal at Rimbey Junior Senior High  School.
Back to all posts