Posted on
Ron Rarick Appointed Wolf Creek Public Schools Transportation Manager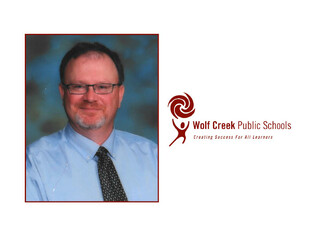 Wolf Creek Public Schools (WCPS) is pleased to announce the appointment of Mr. Ron Rarick to the position of Transportation Manager.
Mr. Rarick has been employed as a school-based administrator with WCPS for 19 years, serving in the capacity of principal at Mecca Glen and assistant principal at Ponoka Secondary Campus. Rarick will soon be retiring from his current assistant principal position in June 2019.  
"His proven success as a leader in Wolf Creek, combined with his exceptional management and interpersonal skills, will ensure the Transportation Department will continue to provide safe and reliable student transportation services," said Roger Hall, WCPS secretary-treasurer.
Rarick has previous bus driving experience, with a soon to be renewed Class 2 license. In a previous school division, he managed a woodlot, was a community coordinator for Project Heavy Duty and Project Agriculture, all of which contributes to the extensive management experience Rarick brings to his role as Transportation Manager.
Rarick is very eager to meet his new staff and ensure that there is a comprehensive communication plan developed that will also allow WCPS' very knowledgeable staff to contribute to department planning.
"I'm looking forward to joining the transportation team, these are dedicated individuals who all ensure that our children make it safely to and from school each day. I am excited about what the future holds," said Rarick.
Rarick is scheduled to start as Transportation Manager in July 2019.
Back to all posts