Posted on
Bus Safety for New Riders: WCPS involved in event for parents and children who will ride the school bus for the first time this year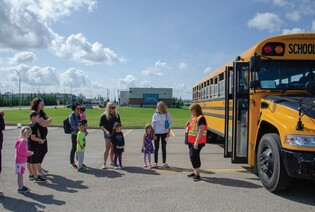 Children and parents whose young ones will be riding the school bus for the first time this school year can learn about bus safety and what the experience will be like.   
The First Rider Bus Safety and Introduction Events takes place at: 
Wolf Creek Public Schools & Area (Lacombe, Ponoka, Rimbey, Eckville, Blackfalds, Clive, Alix, Rimbey, Bluffton, Crestomere, Mecca Glen & Bentley)
Thursday, August 18, 2022
3 p.m. to 7 p.m.
Gary Moe Sportsplex parking lot - 5210 54 Ave in Lacombe
Red Deer & Area
Tuesday, August 16, 2022
3 p.m. to 7 p.m.École Secondaire Notre Dame High School parking lot
50 Lees Street in Red Deer
Olds & Area      Wednesday, August 17, 2022 3 p.m. to 7 p.m.École Deer Meadow School parking lot5411 61 Ave in Olds
Rocky Mountain House & Area 
Tuesday, August 23, 2022
West Central High School / St Dominic High School in RMH
Drayton Valley & Area
Wednesday, August 24, 2022
Frank Maddock High School in Drayton Valley
During the event, you will watch a school bus safety video, learn how to ride the bus safely, be shown how to enter and exit the bus safely, experience a brief school bus ride, and participate in an emergency evacuation. 
For event partners and additional information please view the attached brochure: CLICK HERE
Your stay will be about 45 minutes and is Free to Attend!  Parents will participate with their children. No pre-registration required.
If you can not attend the Wolf Creek event, you are welcome to attend any of the other events if it is more convenient for you. 
This invitation is being sent to all kindergarten and grade 1 bus students accessing WCPS busing in September - any new rider is welcome to attend.

We look forward to seeing you there!
Back to all posts